Spalicious Limited Edition
The limited edition flavours from Spalicious are launched twice a year, once in winter hitting shelves around end June, beginning July and again in summer hitting shelves end October beginning November.  These flavours are all about giving your body something different, giving your body a mini holiday and best part giving your body an experience which is an important part of stress relief and bringing about calmness and serenity to mind and body.
Winter is all about bathing and heavenly hot soaks just before bed!  The Spalicious soaks are not only delicious in scent but most importantly healthy for your skin and woman friendly.
Look out for the two delectable flavours this winter:  Lemongrass & Eucalyptus  and Gluhwein!
LEMONGRASS & EUCALYPTUS SOAK and GLUHWEIN SOAK:
A hydrating sodium bicarbonate based bath soak which deeply cleanses the skin whilst moisturising and soothing with an anti-bacterial touch! Add a tablespoon or two of soak to a hot bath, lie back, relax and enjoy.
Unique ingredient: Sodium Bicarbonate        Softens rough calluses and skin, neutralises acids on the skin, excellent cleaning agent.
LEMONGRASS & EUCALYPTUS SCRUB:
A luxurious formula combining salt and shea butter to gently remove dry skin cells and stimulate blood flow whilst leaving the skin silky smooth and hydrated.
Unique ingredients:
Coconut Oil                     Packed with vitamin E, proteins, lauric, capric and caprylic acids (known for their antifungal properties)
Shea Butter                          Leaves no greasy residue like petroleum based products, revitalises, softens, and helps restore elasticity.  Allows for a more creamy textured formulation
GLUHWEIN SCRUB:
A kaolin based sugar scrub which stimulate organic processes within the skin by re-mineralising it and gently removing dead and dry skin cells, whilst providing moisture to the skin. The skin is left feeling soft and conditioned. Vigorously mix the sugar and kaolin cream emulsion together to ensure that the sugar granules are well mixed into the cream, apply onto dry skin and gently rub against the skin.  Then add a little water to emulsify and now vigorously rub the mixture against your skin to create a slight reddening of the skin.  Rinse off with warm water and you will be left with a radiant and smooth skin!  Exfoliating your body is now an experience with Spalicious!
Unique Ingredients:
Kaolin                                      Known as "China Clay" originates from natural claylike mineral (Silicate of Aluminum) and is composed of silica, iron, magnesium, calcium, sodium, zinc and other minerals. Excellent absorbent qualities and skin remineraliser.
Sweet Almond Oil            Moisturises, improves elasticity, revives and softens the skin.
LEMONGRASS & EUCALYPTUS BUTTER and GLUHWEIN BUTTER :
A Shea butter, avocado oil and wheat germ oil based rich cream which hydrates, nourishes and protects the skin, leaving the skin feeling silky soft.  Apply a little to the whole body daily.
Added shimmer to glisten and glow (Gluhwein Butter).
Unique Ingredients:
Shea Butter                    Leaves no greasy residue like petroleum based products, revitalises, softens, and helps restore elasticity. Naturally rich in Vitamins A, E and F.
Avocado Oil                     Sterolins relieve sun damaged skin and reduce blemishes, helps increase collagen production, rich in vitamins and minerals for skin rejuvenation.
Wheat Germ oil               Helps repair damaged tissues and improves blood circulation. Naturally rich in Vitamin E – used to add moisture and elasticity to the skin while making it look younger and firmer. Vitamin E
RECOMMENDED RETAIL SELLING PRICE: R 495
AVAILABLE FROM: PROFESSIONAL SALONS/SPAS – STOCKISTS OF SPALICIOUS.
Call 011 312 7840 to find your closest stockist.
RECOMMENDED RETAIL SELLING PRICE: R 495
AVAILABLE FROM: PROFESSIONAL SALONS/SPAS – STOCKISTS OF SPALICIOUS.
Call 011 312 7840 to find your closest stockist.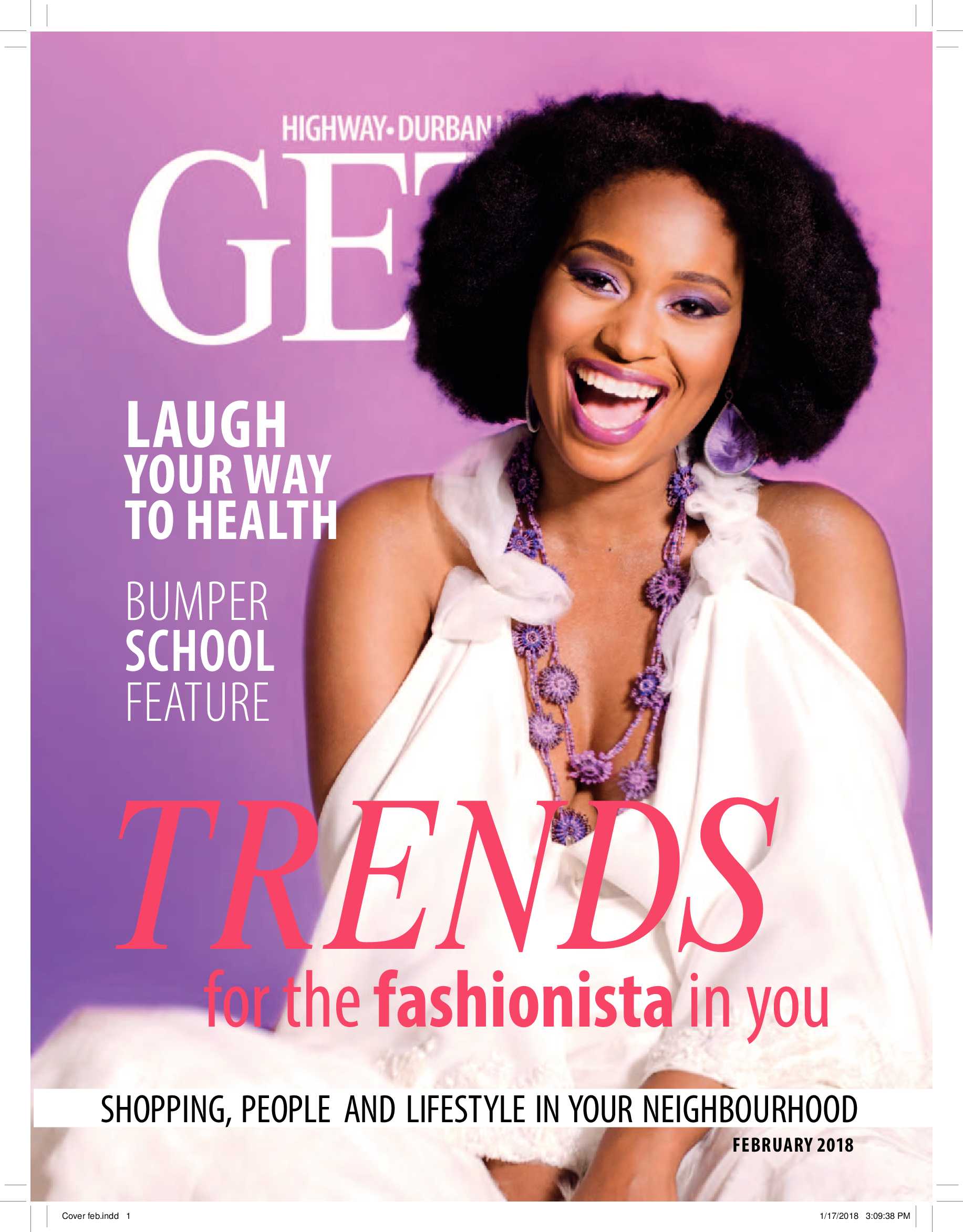 Get It Magazine Durban January 2018
Trends for the fashionista in you
View magazine

Chocolate Mozart
Renowned for their mouth-watering, decadent and convenient desserts, Chateau Gateaux has become Durban's most-loved Patisserie – an obsession to say the least.
As good as eating out
Let's face it. Budgets are tight. And eating out has become somewhat of a treat. But we've found the perfect solution … restaurant food at home.
Bespoke baby gear, designed with the supermom in mind!
When it comes to baby brands, there are so many great companies out there producing some incredible stuff. On an international level, we are of course envious of some of the adventurous, fun and fabulous products on the market (not all of which we can always get our hands on), so we simply cannot contain ourselves when every now and again we stumble across some equally great brands produced on our very own doorstep…
A Crazi kind of giveaway
There are only a few weeks left of the Crazi Erazi phenomenon that has swept the country since December, and this is your chance to win one of five complete sets of Crazi Erazi erasers that we are giving away.
STRETTON'S & Barker & Quin collaborate to reinvent G&T
Stretton's Gin have come to the rescue of all gin-lovers with a collaboration that's bound to be the talk of the town. The award-winning Gin brand partnered with tonic experts Barker and Quin to perfect a timeless classic – Gin and Tonic.
50 Shades of Pink
When it comes to wine, especially rosé, there are loads of guys who won't touch it. Maybe it's because they prefer a beer or a more refined spirit; maybe it's because it comes in a stemmed glass, who knows?. What we can say though, based on the confessions of our local wine fundi, Jan-Nico Coetzee, is that even the tough guys have a palate for rose, and thanks to the bottled beauties listed below, we now know just why.
February Spoil
Let your presence linger…
is a national brand of premium free magazines available in centres across the country.
to see other Get It magazines in the network.