Backyard boho
Bohemian furniture
You don't have to transform your entire garden to enjoy the rewards of some bohemian comfort. From what we've seen, bohemian gardens usually always seem to be a beautiful collection of valuable, antique pieces strewn across the lawn, draped with loads of pretty fabrics. It can be as simple as using an old wooden chair or settee that you would normally see indoors, to create a nook or sitting area to explore. Weather conditions will soon wear down any coloured paint or varnish and show raw wood on tables and chairs, and the more weathered it looks, the better for your boho theme.
Colour
Blending colours with bohemian rhapsody is a sure-fire way to conjure up your bohemian garden. Anything goes, as long as they all have the same saturation – all bright or all faded (but we think…. the brighter, the better). Sticking to this will unify the space rather than cause it to appear haphazard. If you are using furniture with faded fabric, no worries, because you can add colourful, decorative scatters to perk things up or drape a bright coloured piece of fabric over the back of a chair, or do the same with a scarf you no longer use. If you like tablecloths, instead of centering them, hang them loosely over the corner of the table or across at an angle. Use more than one spread on a table for a dramatic look. Once you have wrapped your head around the multitude of colours, why not try to mix patterns and textures as well for a rich, eclectic look.
Light up
When creating your bohemian garden, don't settle for a few temporary candles. Lighting your garden should be an art, so take time when considering the kind of lighting you would like to use, install or hang. In addition to candles on the tables in assorted glass vases, wine bottles or jars, try sitting plates or saucers of multi coloured candles around garden ledges and on rocks. Moroccan pendants and glass globes all help to finish that perfect bohemian garden look, while serving to take your space from day to night. You may want to go looking for an old chandelier, take it home, rewire it as a lamp, and hang it from the limb of a tree. This would look great over an eating space or tucked away among the trees with only a couple of chairs beneath it. Consider stringing clear or coloured fairy lights in the trees or from tree to roof and back. Perhaps these could light a 'dance floor' you've created in your garden of patio stones.
Greenery
Boost greenery to create a vivid contrast between Mother Earth`s naturalness and our vivid sense of joy in being surrounded by nature and loved ones. Think bright splashes of colour mixed with large draping ferns. In the summer, you could hang your houseplants outdoors from the limbs of the trees and put a votive candle in the soil for more light. In the midst of a drier, more dull winter, replace or enhance textile colour with colourful flowers supported by greenery, such as an old shabby chic bench surrounded by candles and flowers, that brings a great balance in colour and ambiance that can speak of the bohemian style. Use an old metal chair as a plant stand. Just do the unexpected both with colour and plants.
Structures
If you have creative flair or a knack for building things, then build a wooden tee pee. If not a little playground hideout for your little ones, this can be used as a meditation spot for you. Walls can serve as beautiful talking points if covered by the right kind of greenery and serving as the backdrop for your bohemian nook. Wooden or concrete sculptures or stools, surrounded by greenery and blooms also greatly contribute to this setting too.
Bonfire…
One of nature's brightest and warmest elements, fire, can easily emphasize the ambience of your bohemian garden if you already have or are prepare to build a fire pit. The presence of colour and greenery and wood are enhanced by fire, and help to create a cosy, warm and peaceful setting.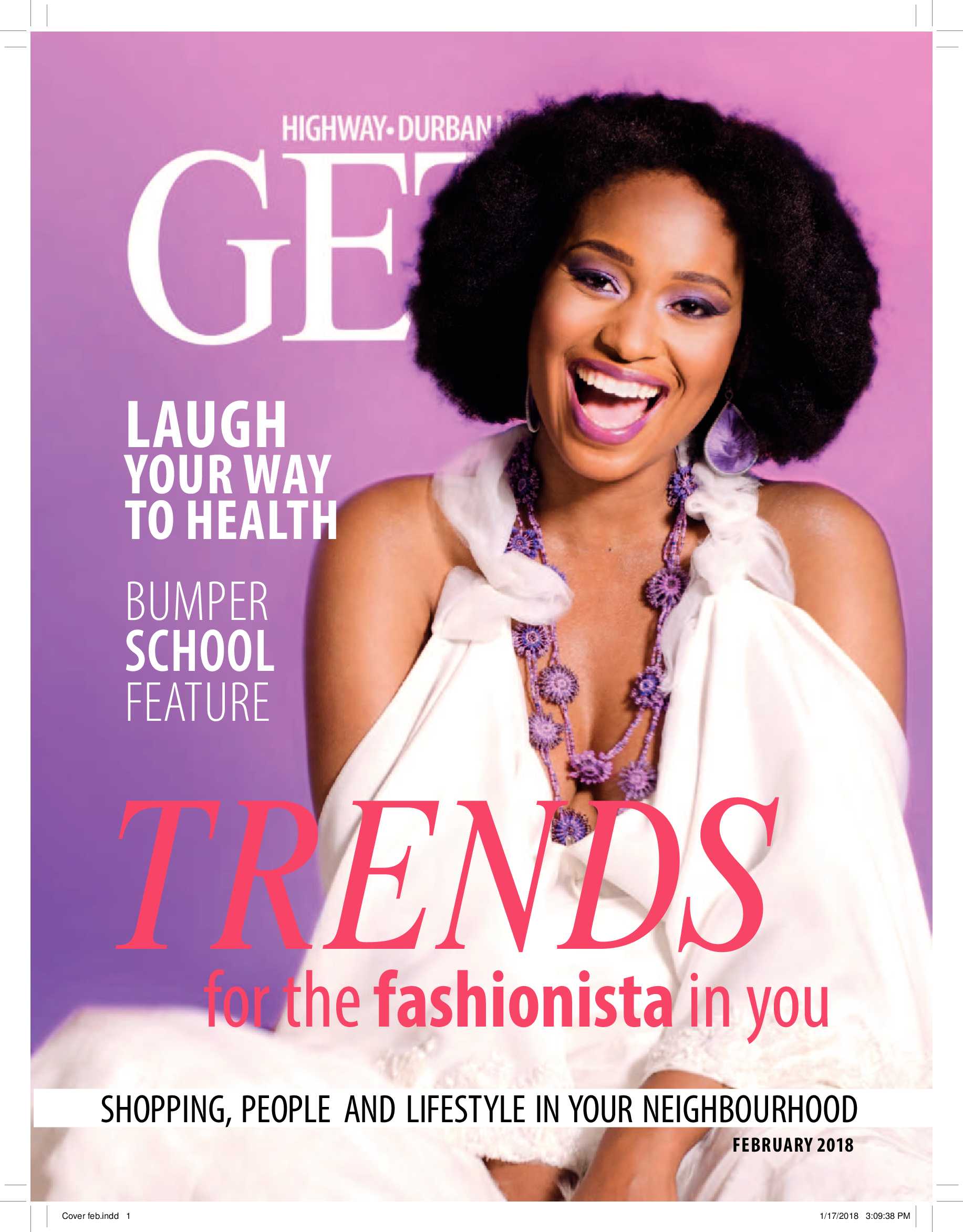 Get It Magazine Durban January 2018
Trends for the fashionista in you
View magazine

Chocolate Mozart
Renowned for their mouth-watering, decadent and convenient desserts, Chateau Gateaux has become Durban's most-loved Patisserie – an obsession to say the least.
As good as eating out
Let's face it. Budgets are tight. And eating out has become somewhat of a treat. But we've found the perfect solution … restaurant food at home.
Bespoke baby gear, designed with the supermom in mind!
When it comes to baby brands, there are so many great companies out there producing some incredible stuff. On an international level, we are of course envious of some of the adventurous, fun and fabulous products on the market (not all of which we can always get our hands on), so we simply cannot contain ourselves when every now and again we stumble across some equally great brands produced on our very own doorstep…
A Crazi kind of giveaway
There are only a few weeks left of the Crazi Erazi phenomenon that has swept the country since December, and this is your chance to win one of five complete sets of Crazi Erazi erasers that we are giving away.
STRETTON'S & Barker & Quin collaborate to reinvent G&T
Stretton's Gin have come to the rescue of all gin-lovers with a collaboration that's bound to be the talk of the town. The award-winning Gin brand partnered with tonic experts Barker and Quin to perfect a timeless classic – Gin and Tonic.
50 Shades of Pink
When it comes to wine, especially rosé, there are loads of guys who won't touch it. Maybe it's because they prefer a beer or a more refined spirit; maybe it's because it comes in a stemmed glass, who knows?. What we can say though, based on the confessions of our local wine fundi, Jan-Nico Coetzee, is that even the tough guys have a palate for rose, and thanks to the bottled beauties listed below, we now know just why.
February Spoil
Let your presence linger…
is a national brand of premium free magazines available in centres across the country.
to see other Get It magazines in the network.