Breaking down the game of rugby
Take for example Durbanite Bernadine Miller, wife of former Eastern Province rugby player general manager of the Investec International Rugby Academy, Greg Miller, who has lived the life of both a fan and a foe of the game, so when it comes to rugby and match day etiquette, no one quite explains the game like she does.
"When you are married to a rugby player who kicked for poles, the word "fan" is somewhat subjective. There were days when I loved the game and days when there weren't enough places to hide. This was usually always determined by how well the kicking went! I can gladly say this has changed since Greg's retirement and I can now sit and enjoy the odd game from an outsider's perspective."
Your take on Vodacom Super Rugby…
"Too many teams and too complicated to follow. I like watching the Sharks, Lions and possibly a Stormers' game as my father supported them. But my enjoyment of rugby is probably more about the occasion than following the game and players too closely."
So the Sharks are up against the Bulls …
"We don't get to watch live games very often as my six-year-old would probably tear the stadium down. But, my thoughts on the Bulls vs Sharks are simple. I support anybody that plays against the Bulls and the fact that it is the Sharks playing them, it's a no brainer. Entertainment is also a simple one to answer. We braai at home and there may be a few beers involved."
Does it get loud during a match…
"Depending on how many beers are involved. The only real noise comes from poor reffing decisions. We are all specialists when it comes to reffing, and therefore we all have our say. It is amazing how we are never on the same page as the actual ref standing on the field."
Players with the most potential in your eyes…
"My two sons are the most talented rugby players in the world, but after them I'd have to say Kirwan Bosch seems to be useful. There is a big centre from the Lions and, depending on what type of talent you are talking about, Pat Lambie is rather good looking."
Who would you bet on when it comes to the following rugby scoring methods:
Try: No one from the Bulls – they can't score tries. In the Sharks, Kirwan Bosch.
Conversion: Kirwan Bosch
Penalty Kick: Kirwan Bosch
Drop Goal: Kirwan Bosch… anyone disagreeing with me here? It seems to be quite obvious who I'd stake my wages on. LOL!!
Explain the following rugby vocabs in your own interpretation:
A ruck… A whole bunch of players lying on top of each other.
The maul… A whole bunch of players lying on top of each other.
An ankle-tap… Rugby players aren't known for their dancing, so I presume it isn't a dance move.
If a team throws a ball into a scrum… The little guy with the big mouth and a number 9 on his back puts the ball into a scrum.
Blindside…The side where the big forwards stand to have a rest.
Blitz defence… Something our 7-a-side team use to win games.
A-defender… The guys that make all the tackles.
The breakdown… When my car gets a flat tyre or another term for a whole bunch of players lying on top of each other.
Ball and all … Sounds like something to do with tackling.
Above the horizontal… When a guy gets tackled so hard he flies above the horizontal.
Banana kick… A bad kick.
Cannonball… The bald guy that runs head first into a tackler.
Crusher tackle… When a big guy jumps on a little guy – and there isn't much left of the little guy.
Dead… The little guy after a crusher tackle.
Drop kick… When the flyhalf  kicks off.
Dummy runner…: All the forwards.
A tighthead… The big guys that don't have a neck and play prop.
Goose step… When the guy with the ball doesn't know what to do so he starts dancing around on one spot.
Line-out… The hooker throws the ball into the lineout and the jumper catches it – sometimes.
If the other team flies over the line with the ball… Scoring a try.
If a guy with tattoos scores… He comes from the Bulls.
Tackle…One guy smashes another guy with the ball.
Half time…. I know they used to get oranges, but now I think the backline talk about tactics and the forwards talk about their feelings.
Hospital pass… A bad pass when someone ends up injured.
Show and go…  When rugby players go shopping.
See you later… When the players want to fight on the field but can't because they will get a yellow card. So instead they say, "See you later".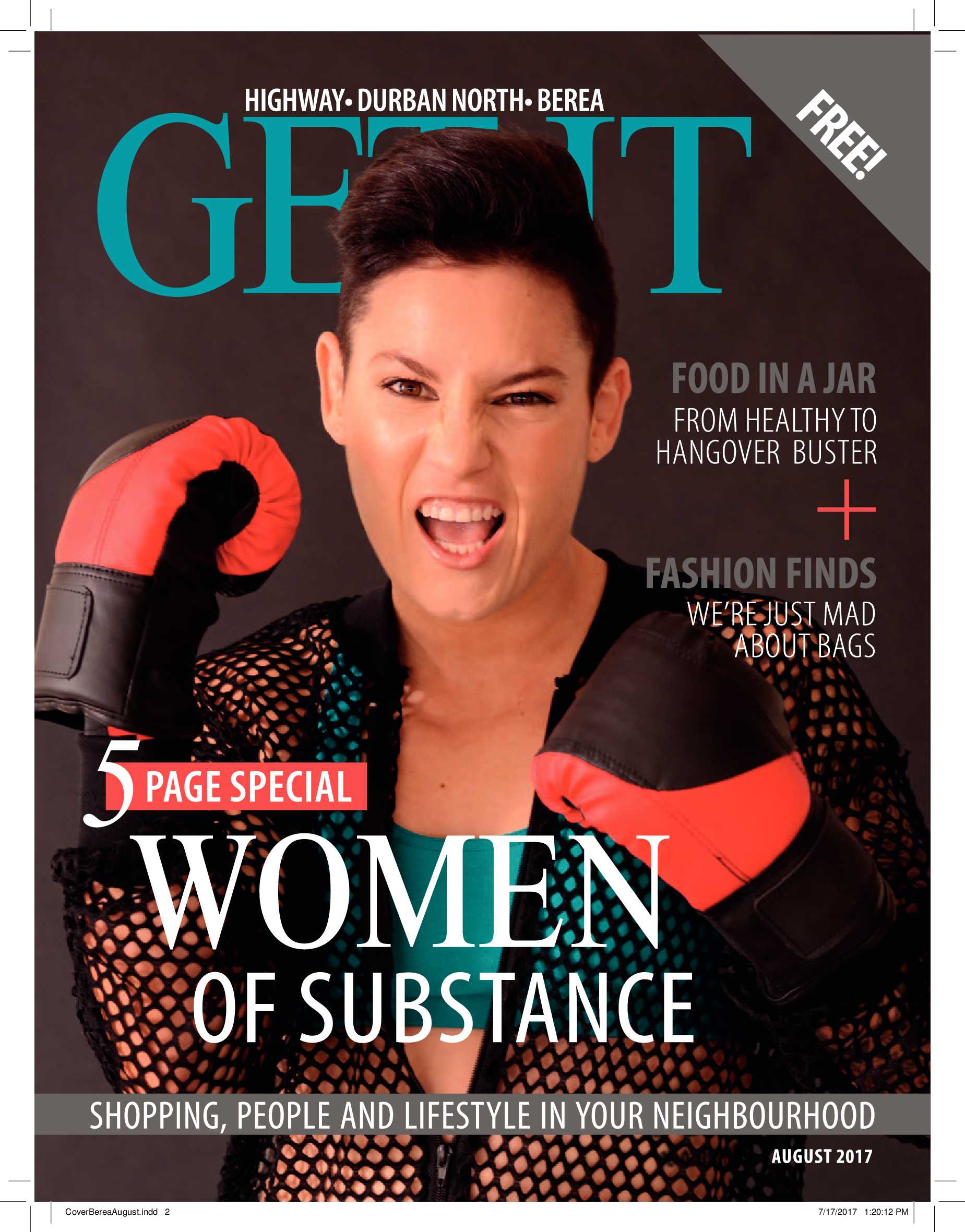 Durban Get It Magazine – August 2017
Women of substance
View magazine

Autostyle Motorshow 2017
The 14th edition of the Autostyle Motor show is back. Please save the date Sunday 17 September 2017.
Giveaway- a night of hilarious stand-up comedy entertainment at Butler's Restaurant in Hillcrest
Win 4 Tickets to a Stand-up Comedy Night! …proudly brought to you by On Fire Comedy, Savanna Cider and East Coast Radio! Date: Saturday 02 September 2017 Venue: Butler's Restaurant (24 Old Main Rd, Hillcrest) Start time: 8:30pm Closing Date: 30th August
8-TREK: The economical all-purpose ointment
8-Trek has grown in popularity and now it is available in two sizes, the small 25ml for bags and travel and a bigger 50ml tube which is for the home.
Luxurious, chocolaty secrets
Don't like dark chocolate because of its bitter taste? We've got just the right fix for you… Lindt's Excellence Mild 70%.
Paisleys & Posies
Yes, we know it's not officially Spring yet but let's face it, here in Durbs winter isn't really a thing. In anticipation of the up-coming new season, we've taken a sneak peek at the nine new fabrics that have joined Lou Harvey's troupe of beautiful, bright and functional lifestyle accessories, and we've already started shopping!
Win with Pediasure
Children naturally have high energy requirements to support their growth and development, in addition to what they need for activity, sport and play time. If they do not get enough energy from food, they may become tired, irritable, and have poor concentration, losing their interest in being active. PediaSure® Complete is a nutrient-rich, lactose-free drink that provides balanced nutrition for children from age three to ten, experiencing growth challenges. Long-term clinical studies using two glasses of Pediasure® Complete daily has been associated with improved appetite and physical activity and a reduction in the number of sick days.
Airtushi – The Inflatable Travel Highchair
The Airtushi is an inflatable booster seat for kids. You can use it on planes, and attach it to almost any seat as a high chair.
July Spoil
Crabtree & Evelyn is renowned around the world for beautiful gifts and everyday luxuries that capture the essence of British style. Rich, indulgent body butters, nourishing cleansers, intensive, award-winning hand therapies – all the essentials your body craves. And then… they created La Source… a wealth of therapeutic marine goodness for head to toe nourishment, and we just love the stuff!
Handmade with love
Anything made locally and with love is something we just have to own, which is why we can't stop raving about the stunning range of heirloom artisan pendants from Home-Industry, in particular, their Unity Necklace (valued at R1380) consisting of four sterling silver organic rings beautifully displayed on a rolo slide chain and personalised to your liking.
is a national brand of premium free magazines available in centres across the country.
to see other Get It magazines in the network.