Breaking down the game of rugby
Take for example Durbanite Bernadine Miller, wife of former Eastern Province rugby player general manager of the Investec International Rugby Academy, Greg Miller, who has lived the life of both a fan and a foe of the game, so when it comes to rugby and match day etiquette, no one quite explains the game like she does.
"When you are married to a rugby player who kicked for poles, the word "fan" is somewhat subjective. There were days when I loved the game and days when there weren't enough places to hide. This was usually always determined by how well the kicking went! I can gladly say this has changed since Greg's retirement and I can now sit and enjoy the odd game from an outsider's perspective."
Your take on Vodacom Super Rugby…
"Too many teams and too complicated to follow. I like watching the Sharks, Lions and possibly a Stormers' game as my father supported them. But my enjoyment of rugby is probably more about the occasion than following the game and players too closely."
So the Sharks are up against the Bulls …
"We don't get to watch live games very often as my six-year-old would probably tear the stadium down. But, my thoughts on the Bulls vs Sharks are simple. I support anybody that plays against the Bulls and the fact that it is the Sharks playing them, it's a no brainer. Entertainment is also a simple one to answer. We braai at home and there may be a few beers involved."
Does it get loud during a match…
"Depending on how many beers are involved. The only real noise comes from poor reffing decisions. We are all specialists when it comes to reffing, and therefore we all have our say. It is amazing how we are never on the same page as the actual ref standing on the field."
Players with the most potential in your eyes…
"My two sons are the most talented rugby players in the world, but after them I'd have to say Kirwan Bosch seems to be useful. There is a big centre from the Lions and, depending on what type of talent you are talking about, Pat Lambie is rather good looking."
Who would you bet on when it comes to the following rugby scoring methods:
Try: No one from the Bulls – they can't score tries. In the Sharks, Kirwan Bosch.
Conversion: Kirwan Bosch
Penalty Kick: Kirwan Bosch
Drop Goal: Kirwan Bosch… anyone disagreeing with me here? It seems to be quite obvious who I'd stake my wages on. LOL!!
Explain the following rugby vocabs in your own interpretation:
A ruck… A whole bunch of players lying on top of each other.
The maul… A whole bunch of players lying on top of each other.
An ankle-tap… Rugby players aren't known for their dancing, so I presume it isn't a dance move.
If a team throws a ball into a scrum… The little guy with the big mouth and a number 9 on his back puts the ball into a scrum.
Blindside…The side where the big forwards stand to have a rest.
Blitz defence… Something our 7-a-side team use to win games.
A-defender… The guys that make all the tackles.
The breakdown… When my car gets a flat tyre or another term for a whole bunch of players lying on top of each other.
Ball and all … Sounds like something to do with tackling.
Above the horizontal… When a guy gets tackled so hard he flies above the horizontal.
Banana kick… A bad kick.
Cannonball… The bald guy that runs head first into a tackler.
Crusher tackle… When a big guy jumps on a little guy – and there isn't much left of the little guy.
Dead… The little guy after a crusher tackle.
Drop kick… When the flyhalf  kicks off.
Dummy runner…: All the forwards.
A tighthead… The big guys that don't have a neck and play prop.
Goose step… When the guy with the ball doesn't know what to do so he starts dancing around on one spot.
Line-out… The hooker throws the ball into the lineout and the jumper catches it – sometimes.
If the other team flies over the line with the ball… Scoring a try.
If a guy with tattoos scores… He comes from the Bulls.
Tackle…One guy smashes another guy with the ball.
Half time…. I know they used to get oranges, but now I think the backline talk about tactics and the forwards talk about their feelings.
Hospital pass… A bad pass when someone ends up injured.
Show and go…  When rugby players go shopping.
See you later… When the players want to fight on the field but can't because they will get a yellow card. So instead they say, "See you later".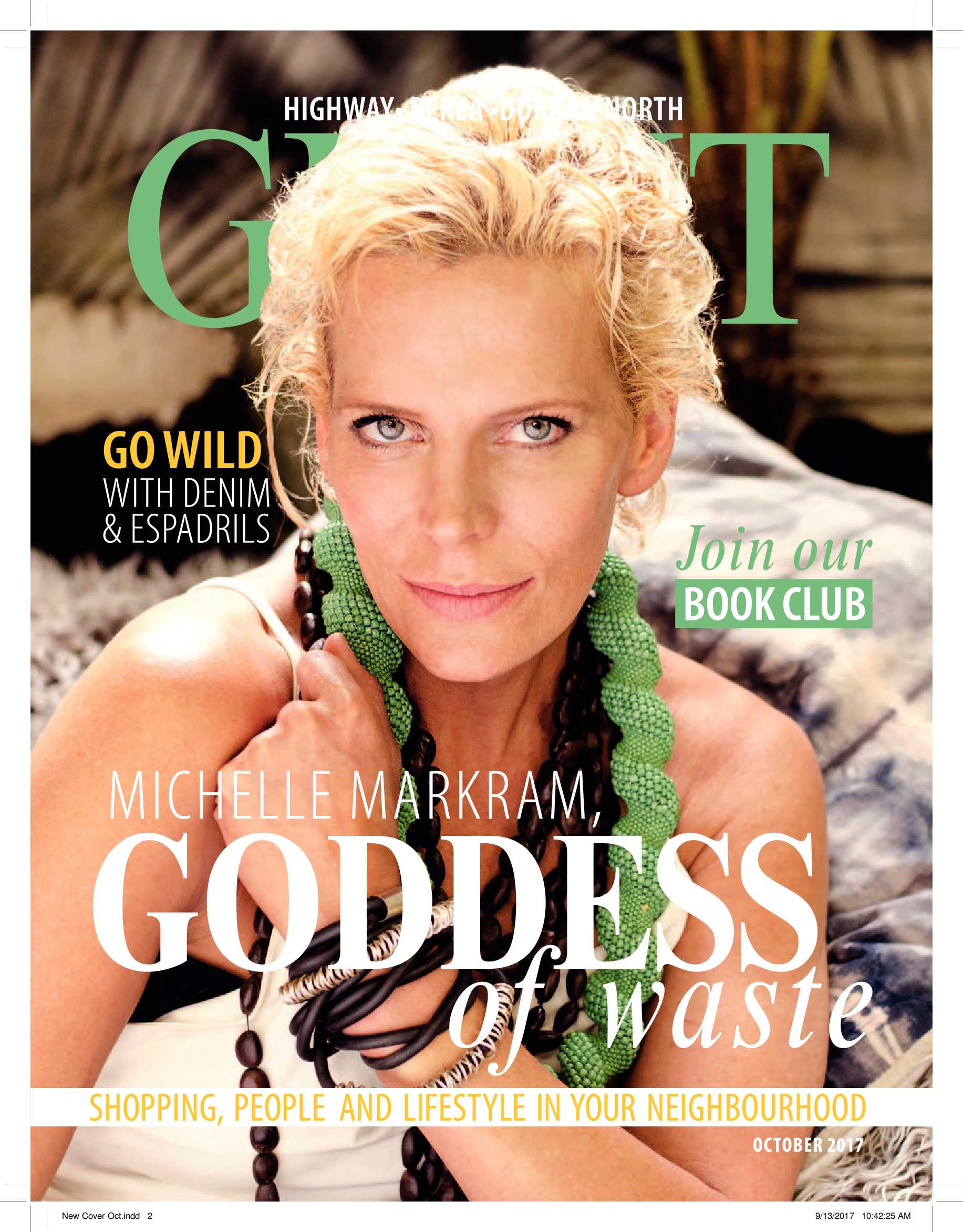 Get It Durban October 2017
Michelle Markham, Goddess of waste
View magazine

Wanna win a R500 Col'Cacchio voucher?
Hey pizza lovers! We are offering you the chance to win a R500 voucher from Col'Cacchio, the popular Italian inspired franchise known for its gourmet thin-base wood-fired pizzas, hearty pasta and crisp fresh salads.
Wealth Movement Event
Interested in Wealth Movement? We are giving away two tickets to the event below at Coastlands Hotel, Umhlanga on 31 October 2017.
Yusuf Cat Stevens ticket give-away
British singer-songwriting legend and Rock and Roll Hall of Fame inductee, Yusuf / Cat Stevens is touring South Africa for the first-time next month, and you could win a set of tickets to the Durban show.
The Midlands Kitchen
Motorists driving the long slog of the N3 highway will soon have an exciting new stopping point that's promising to deliver a taste sensation.
Durbs: can you handle all the heroes?
The Color Run is back! In 2017, it's bringing The Superhero Tour to Durban's shores. Strap on your capes – it's gonna get colourful.
October Spoil
Time for a classic, and oh-so-beautiful, timepiece.
Sense by Hollandia
A sense of wonder for the bedroom.
is a national brand of premium free magazines available in centres across the country.
to see other Get It magazines in the network.