Breaking down the game of rugby
Take for example Durbanite Bernadine Miller, wife of former Eastern Province rugby player general manager of the Investec International Rugby Academy, Greg Miller, who has lived the life of both a fan and a foe of the game, so when it comes to rugby and match day etiquette, no one quite explains the game like she does.
"When you are married to a rugby player who kicked for poles, the word "fan" is somewhat subjective. There were days when I loved the game and days when there weren't enough places to hide. This was usually always determined by how well the kicking went! I can gladly say this has changed since Greg's retirement and I can now sit and enjoy the odd game from an outsider's perspective."
Your take on Vodacom Super Rugby…
"Too many teams and too complicated to follow. I like watching the Sharks, Lions and possibly a Stormers' game as my father supported them. But my enjoyment of rugby is probably more about the occasion than following the game and players too closely."
So the Sharks are up against the Bulls …
"We don't get to watch live games very often as my six-year-old would probably tear the stadium down. But, my thoughts on the Bulls vs Sharks are simple. I support anybody that plays against the Bulls and the fact that it is the Sharks playing them, it's a no brainer. Entertainment is also a simple one to answer. We braai at home and there may be a few beers involved."
Does it get loud during a match…
"Depending on how many beers are involved. The only real noise comes from poor reffing decisions. We are all specialists when it comes to reffing, and therefore we all have our say. It is amazing how we are never on the same page as the actual ref standing on the field."
Players with the most potential in your eyes…
"My two sons are the most talented rugby players in the world, but after them I'd have to say Kirwan Bosch seems to be useful. There is a big centre from the Lions and, depending on what type of talent you are talking about, Pat Lambie is rather good looking."
Who would you bet on when it comes to the following rugby scoring methods:
Try: No one from the Bulls – they can't score tries. In the Sharks, Kirwan Bosch.
Conversion: Kirwan Bosch
Penalty Kick: Kirwan Bosch
Drop Goal: Kirwan Bosch… anyone disagreeing with me here? It seems to be quite obvious who I'd stake my wages on. LOL!!
Explain the following rugby vocabs in your own interpretation:
A ruck… A whole bunch of players lying on top of each other.
The maul… A whole bunch of players lying on top of each other.
An ankle-tap… Rugby players aren't known for their dancing, so I presume it isn't a dance move.
If a team throws a ball into a scrum… The little guy with the big mouth and a number 9 on his back puts the ball into a scrum.
Blindside…The side where the big forwards stand to have a rest.
Blitz defence… Something our 7-a-side team use to win games.
A-defender… The guys that make all the tackles.
The breakdown… When my car gets a flat tyre or another term for a whole bunch of players lying on top of each other.
Ball and all … Sounds like something to do with tackling.
Above the horizontal… When a guy gets tackled so hard he flies above the horizontal.
Banana kick… A bad kick.
Cannonball… The bald guy that runs head first into a tackler.
Crusher tackle… When a big guy jumps on a little guy – and there isn't much left of the little guy.
Dead… The little guy after a crusher tackle.
Drop kick… When the flyhalf  kicks off.
Dummy runner…: All the forwards.
A tighthead… The big guys that don't have a neck and play prop.
Goose step… When the guy with the ball doesn't know what to do so he starts dancing around on one spot.
Line-out… The hooker throws the ball into the lineout and the jumper catches it – sometimes.
If the other team flies over the line with the ball… Scoring a try.
If a guy with tattoos scores… He comes from the Bulls.
Tackle…One guy smashes another guy with the ball.
Half time…. I know they used to get oranges, but now I think the backline talk about tactics and the forwards talk about their feelings.
Hospital pass… A bad pass when someone ends up injured.
Show and go…  When rugby players go shopping.
See you later… When the players want to fight on the field but can't because they will get a yellow card. So instead they say, "See you later".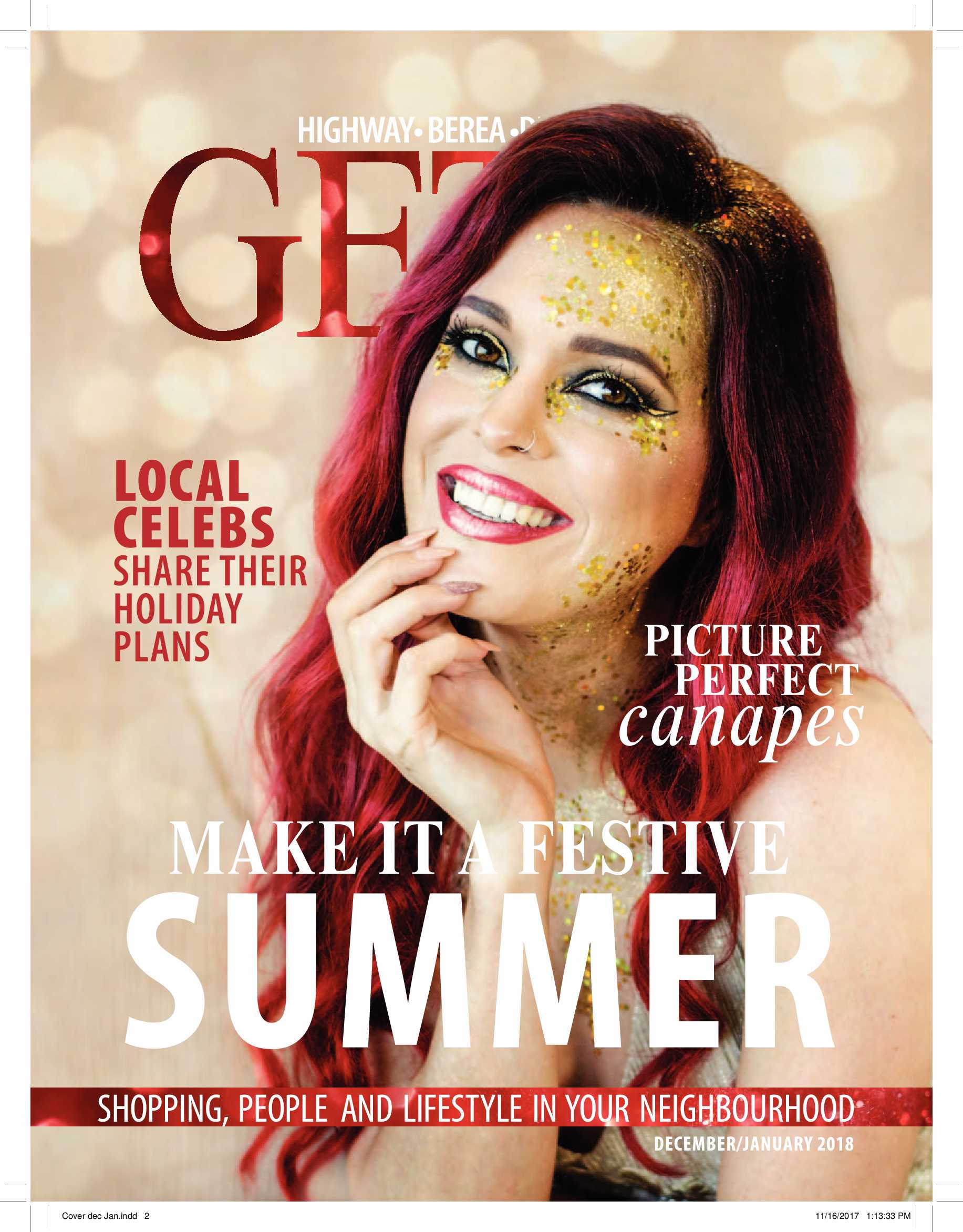 Get It Magazine Durban December 2017
Make it a festive summer
View magazine

Season's Greetings
Let the magic happen around the table this year. Gather your loved ones for the festive feast with all the trimmings and create some new memories.
Cancer: A love Story
Cancer: A love Story is Lauren Segal's achingly tender memoir, which starts one wintery morning in 2014 when she receives a call from her husband. The furthest thing from her mind is her biopsy results.
It's going to be a delicious festive season…
This year's holiday season will be jolly delicious as Cadbury plans to share the joy with three new treats, and we're hoping for at least one of each of these in our stockings!
Kahvé Road coffee capsules
Kahvé Road, premium coffee and patisserie specialist has extended its offering to its own premium coffee capsule range which is available at the popular eatery based in Cape Town, as well as online.
An easy going classic rocking horse
Make playtime active with the Hape Rock and Ride Rocking Horse from Toy Kingdom. This perfectly-balanced ride-on can take kids for a slow-and-steady trot or a rocking gallop.
Celebrate the special moments in life with Nomination
Nomination's new collection of Composable links is called Life, because each link reflects an important moment in your life.
An elegant and iridescent palate pleaser
Following Krone's tradition of hand-picking their grapes under the stars in the cool of the night to retain flavour and aroma, the Krone Borealis was named after the 'Corona Borealis' constellation of stars.
Discover Huggies Pants, designed for active babies
Is your baby becoming more active or wriggling at change time?
Enchanting eye colours
Discover eyes that shine with dazzling beauty. With a sweep of brilliance, these Enchanting Eye Colours from Mii create instant allure to give a sheer look layered with sophisticated shimmer.
The ultimate Robertson Winery Summer Hamper
Robertson Winery Lightly Sparkling Sauvignon Blanc is not a light wine and it is not a sparkling wine; it's a lightly sparkling wine – produced from top quality grapes, with intense fruit flavours of grapefruit, melon and passionfruit and an added dazzle of tiny bubbles for innervigorating summer pleasure.
is a national brand of premium free magazines available in centres across the country.
to see other Get It magazines in the network.