The 7 important beauty swaps when you're going green
Natural beauty products are all the rage right now, and it's no wonder why! Making the conscious decision to embrace a pure, organic and toxin-free beauty regime will not only lead to better skin, but an overall improved lifestyle.
The shocking truth is this: Even if you eat organic and use eco-friendly cleaning products, chances are you're probably still ingesting dangerous substances via your skin and hair care products. Artificial dyes, synthetic fragrances and chemical preservatives are just a few of the toxic ingredients found in everyday personal care products.
The good news is that the number of natural beauty options is expanding, and brands are coming out with safer formulas that are just as luxurious and effective as conventional products.
It's time to ditch those dirty offenders in favour of cleaner alternatives. Below are some of our favourite green beauty staples that you can seamlessly swap in place of your not-so-natural formulas.
Lipstick
Why: Finally a truly natural lipstick! Nontoxic and high-performance are no longer mutually exclusive. These velvety, fresh and vibrant hues are free of heavy metals — arsenic, lead, and mercury — commonly found in lipstick.
 Our pick:
 Karen Murell Sand Storm Lipstick
This subtly sandy shade of lipstick suits a wide range of skin tones, and is perfect for nature-lovers, packaged in stylish, eco-friendly materials. Karen Murrell lipsticks are made using pure natural ingredients; the blend of jojoba, candelilla, evening primrose and avocado oil keeps lips soft, supple and well-nourished. Add a smudge of Sand Storm lipstick to your look and greet your next big adventure with a smile. R365, www.faithful-to-nature.co.za
Mascara
Why: Now you can line your lashes with the latest crop of natural mascaras, while still achieving just as much volume, length, and drama as their chemical counterparts!
Our Pick:
Physicians Formula Organic Wear Mascara
Containing the purest ingredients with a revolutionary 100% Natural Origin formula, this long-lasting mascara provides 5 times Lash Boosting for lash length, volume and natural definition. This product is perfect for sensitive eyes. It is free of any harsh chemicals to ensure your comfort throughout the day, while looking fresh, R169, Dis-Chem
 Sunscreen
Why: Natural sunscreens don't contain harmful chemicals. They have also been proven to reduce the effects of sun damage, preserve our skin and keeping us looking younger, and helping in the fight against skin conditions and disease
Our Pick:
Africology SPF 30 Sunscreen
Most sunscreens contain a variety of chemicals that cause long-term damage. Africology's sunscreen is all natural and contains no chemical sun filters, artificial colouring or fragrances.
They use Lackokine Fluid PF, which minimizes reactions caused by skin irritation, thereby shortening the inflammation period and accelerating recovery of the skin. As a consequence of this powerful anti-inflammatory activity, Lactokine Fluid PF efficiently protects the skin.
We also use Phytosan, a soybean-derived cosmetic active which contains proteins, glycoproteins and polysaccharides. It is designed to counteract biological and UV-induced premature ageing of skin and regenerates stressed skin. R240.00, www.africologyspa.com
Hair Colour

 Why: Chemical hair dyes are a very new addition to the scene, and even though they haven't been around for long, the adverse effects they have on our health are already apparent. It's been widely reported that they contain known carcinogens, such as ammonia, p-phenylenediamine (PPD), phthalates, parabens, and resorcinol.
For thousands of years, people have been using botanical extracts to colour and condition their hair and care for their skin so why wait…… give the non toxic options out there a try.
Our Pick:
Love My Hair – 100% Herbal dyes
100% Herbal dyes contain only organically grown plant extracts and are completely chemical-free. It contains lovely herbal extracts like Amla and Shikakai that are a signature of the Love My Hair brand. www.lovemyhair.co.za, from R160. Please contact Cath on cath@lovemyhair.co.za or 073 372 4578
Nail Polish
Why: A weekly trip to the nail salon is a must for many women. But traditional polishes are packed with toxic chemicals. Make you mani healthier by ditching the dangerous stuff and opting for a 9-Free formula (free of formaldehyde, dibutyl phthalate, toluene, formaldehyde resin, camphor, ethyl tosylamide, xylene, parabens and lead).
 OurPick:
 Sparitual Reflect – "Kindness''
Pamper yourself and enjoy the shimmer of the vegan, earth-friendly ingredients found in this luxurious nail polish, Kindness, from SpaRitual. The elegant rustic orange colour of this trendy, non-toxic lacquer is perfect for any occasion and can either complement or contrast any outfit and accessory accordingly. SpaRitual's specially formulated nail lacquer is infused with bamboo to nurture the nail bed and promote strength and thickness. This vegan product is produced and distributed using earth-friendly practices, R185, www.faithful-to-nature.co.za
Moisturiser
Why: Moisturiser is an everyday staple. Your skin is your largest organ, which means 365 chances a year for harmful chemicals to permeate your body. Spare yourself and your skin by opting for natural formulas.
 Our pick:
Esse Deep Moisturiser
Balance and tone your complexion with this wonderfully nourishing organic moisturiser. Made from a selection of special African plant extracts and other organic ingredients, this is a healing, hydrating emulsion (not a chemical laden, pore-clogging ointment). This special formula from Esse will protect your skin from harsh environmental factors and also care for dry zones without leaving the oily areas feeling greasy. The perfect moisturiser for oily and combination skin, R490, www.absoluteskin.co.za
Deodorant
Why: Deodorant is one of the worst offenders when it comes to unsafe personal care products. Traditional formulas typically have high levels of hormone-disrupting aluminum and parabens. Have no fear, these nontoxic formulas will help you pass the sniff test.
 Our Pick:
 Ylang-Ylang & Calendula Deodorant Stick (Schmidt's)
The elegant aroma of Ylang-Ylang + Calendula is sweet with delicate floral notes. This formula is soothing to the skin with enhanced antibacterial protection. Schmidt's Deodorant Sticks provide all day odor and wetness protection with powerful natural ingredients. No Aluminum, Propylene Glycol, Parabens & Phthalates. R120, www.organicchoice.co.za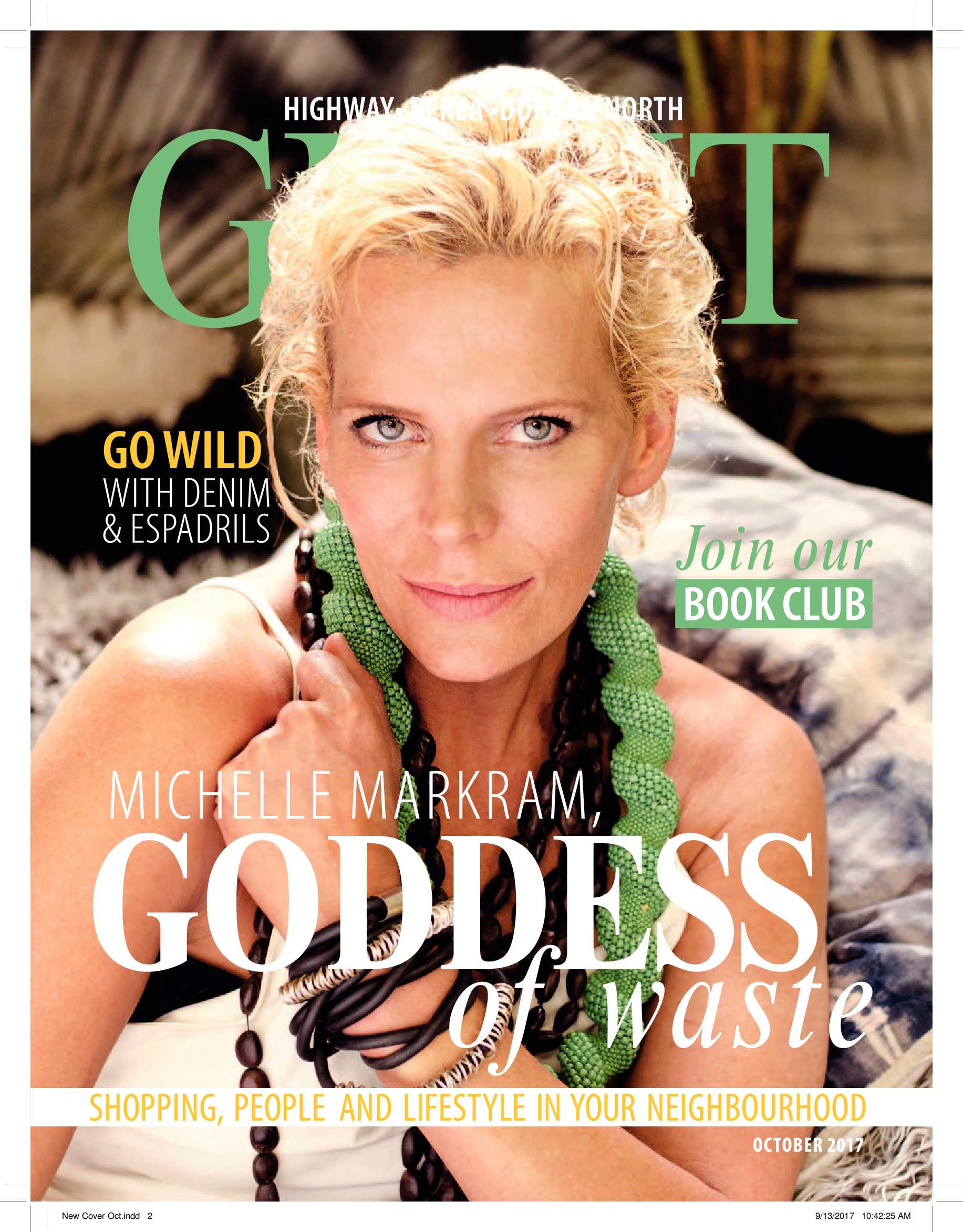 Get It Durban October 2017
Michelle Markham, Goddess of waste
View magazine

Wanna win a R500 Col'Cacchio voucher?
Hey pizza lovers! We are offering you the chance to win a R500 voucher from Col'Cacchio, the popular Italian inspired franchise known for its gourmet thin-base wood-fired pizzas, hearty pasta and crisp fresh salads.
Wealth Movement Event
Interested in Wealth Movement? We are giving away two tickets to the event below at Coastlands Hotel, Umhlanga on 31 October 2017.
Yusuf Cat Stevens ticket give-away
British singer-songwriting legend and Rock and Roll Hall of Fame inductee, Yusuf / Cat Stevens is touring South Africa for the first-time next month, and you could win a set of tickets to the Durban show.
The Midlands Kitchen
Motorists driving the long slog of the N3 highway will soon have an exciting new stopping point that's promising to deliver a taste sensation.
Durbs: can you handle all the heroes?
The Color Run is back! In 2017, it's bringing The Superhero Tour to Durban's shores. Strap on your capes – it's gonna get colourful.
October Spoil
Time for a classic, and oh-so-beautiful, timepiece.
Sense by Hollandia
A sense of wonder for the bedroom.
is a national brand of premium free magazines available in centres across the country.
to see other Get It magazines in the network.