Getting it right, the mad world of being a dad
With a career centred around youth development, it's not hard to see that this former provincial rugby player, GM of Investec International Rugby Academy, and director of coaching at Hilton College, has an appetite for mentoring KZN's young players and coaches. Many of the youngsters that attend the academy have lost their passion for sport, and through Greg's paternal support, their love for rugby is revived. This dedication to nurturing other young minds, is based on his love for his own two boys, Josh (15) and Jesse (7) and his desire to see them thrive.
"Nothing anyone can say to you can ever really prepare you for or explain what happens when you become a dad – it is such an extraordinary experience. I met my firstborn after a heavy night out after a rugby game. Back then my wife, Bernadine, was far more fearsome than any rugby player I had ever been up against, and just before birth, she probably would have done more damage than a fired up Bakkies Botha. It wasn't the newborn I was scared of, it was her. But, it was a sobering wake up call to have to deal with something so amazing, so life changing, yet so fragile. I was a little better prepared for baby number two when he arrived, and far less stressed."
While he looks on with pride at his sons, their personalities, their adversities and abilities to overcome them, this gentle giant often has to remind himself that while they can play rough and scrum and tumble with a rugby ball, at one point the two beings he created, could almost fit comfortably in the palm of one of his hands.
"Being a rugby player, I was tall and proud and confident in my ability as a sportsman because I was good at a sport I loved. Holding my sons at birth, was not such a confident moment. I was proud, but this was not normal for me, even though holding a rugby ball with one hand (which was almost comparable in size) was no big deal. As first time parents, it was scary. It took a while to process the life we were now responsible for, physically and emotionally, and it was only after I realised how durable babies really are that it became easier to hold them normally and feel more confident in my ability to be the best I could be to each of them.
As newborns, I doubt I had any effect on them whatsoever – I was never really very good at playing with dolls as a youngster LOL! But as they started growing up, I would like to think that I succeeded in teaching them a few things about life because I clearly never managed to be any kind of influence in either of their first words. I also believe their mom brainwashed them into calling for me when it came to nappies, feeding, bathing and putting them to bed. But this has changed somewhat; with me doing the boy things outside and entertaining them [which is code for making them tired] while Bernadine does all those motherly things that dads tend to forget about. Regardless of our roles as parents and how we work as a team or independently, the most important thing for us is making the most of life and our time together."
It has been said that a man's greatest challenge is being a father, and Greg couldn't agree more, but he says it's not because it feels like a metal disc has been set off in your brain or because of those tired cliché's about saying goodbye to your social life or sleeping habits or the time spent playing and feeding, or having to be alert to every flicker of noise or emotion…
"Sure, there's truth to these things, and it's truly amazing to have a family of your own, but you begin to realise how seemingly unqualified you are for the job of fatherhood, and question your ability to care for a child, every step of the way. But, I have to remind myself that I didn't come programmed to take on parenting, so I have no choice but to wing it, give it my best shot, and hope I don't get it wrong. It's only when they start to grow up, and you look back, that you realise you must have got some things right. I think what has surprised me most about being a dad is that two boys growing up in the same house can turn out so differently. They say you get wiser the older you get – so the grey hairs they have given me must stand for something right? The true test is when they start to have their own families and if they make good husbands and fathers… I think this is when I will finally be able to say I have done a good job."
For Greg, the biggest challenge he has had to face as a father was and still is finding quality time to spend together as a family.
"I travelled a lot. I still do and often feel guilty about not spending enough quality time with the boys. To make the most of the time we have and to not waste a moment is important. Another challenge would probably be to hold on to what little sanity I have left. I think the boys' unpredictability is their greatest quirk. It can vary from over tired and grumpy after a long day to the energizer bunny after a good sleep. Trying to read these different personalities that tend to change through any given day has become an art and a challenge. It's a madhouse at home. Not sure where the kids and the dog get it from but it's crazy. Come to think of it, it must come from my wife's side of the family. But that is probably what I enjoy most about fatherhood and being a family. The ability to adapt and handle the "rats", according to their moods and energy levels. Getting it right and having the ability to mould a child's life is incredibly rewarding."
And in those tiresome moments when he doesn't seem to be getting things right, Greg turns to the one person who served as his biggest mentor, his dad.
"I don't necessarily phone him up and ask advice as such, but I often bounce ideas off him and chat to him about situations. He has always been an amazing role model to me and I would love to be to my kids what he was to me as I grew up."
"If I've learned anything as a dad, it's that there is a very big and bright side to the changes you go through after becoming a dad. It became apparent to me very quickly that kids have a sixth sense and they know when you are tired, had a heavy night or are just plain lazy – that's when they are most keen to go out and play in the yard. They can sense your fatigue from a mile away. The biggest myth about parenting is that you think that you are in charge – that is never the case. My advice to prospective or new dads… talk to your kids – have meaningful conversations whenever you can. Today's world is so plastic; especially for modern kids. We so often live parallel lives to those of our kids. Get involved in what they do and share their lives with them. The most amazing thing for me is hearing the boy's laugh – when my boys are happy, so am I."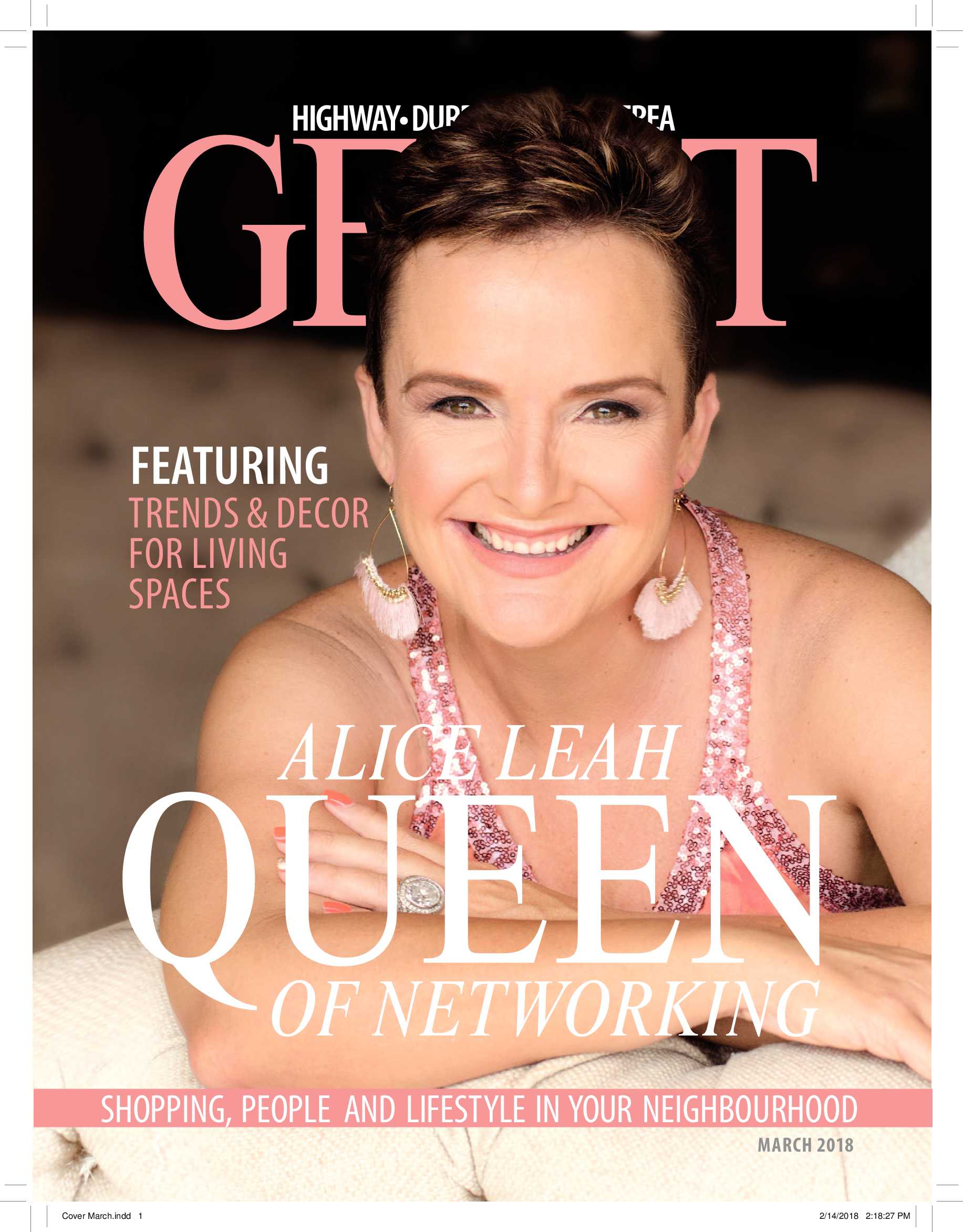 Get It Magazine Durban March 2018
Alice Leah: Queen of Networking
View magazine

The world-class Beatles Tribute returns to rock Durban!
The Easter bunny won't be the only one hopping into Durban this Easter as Beatlemania On Tour will be bouncing around stage when they kick off their week-long tour run in Sibaya Casino over the Easter break from 29 March to 8 April 2018.
Win tickets to Decorex Durban
Leaders in the décor, design and lifestyle trade, Decorex Durban, will inspire visitors to find their unique #rhythmoflife with a range of stylish services and products featuring at the Durban Exhibition Centre from 21 to 25 March.
Sweetie Pie Easter Egg
Sweetie Pie is a South African favourite, and with Easter around the corner this mouthful of goodness from Beyers is now available in a limited edition Sweetie Pie Easter Egg that will delight all loyal fans.
Carrol Boyes Wines Collection
Lovers of renowned gifting and homeware label Carrol Boyes will know that over the years the brand has come to encompass far more than the distinctive tableware for which it first became so highly revered.
March Spoil
Let's get together!
Chocolate for everyone
Who doesn't love Peter Rabbit? Who doesn't love Cadbury Dairy Milk?
World class London Dry Gin
Stretton's Gin has come to the rescue of all gin-lovers with a collaboration that's bound to be the talk of the town.
Chocolate Mozart
Renowned for their mouth-watering, decadent and convenient desserts, Chateau Gateaux has become Durban's most-loved Patisserie – an obsession to say the least.
Bespoke baby gear, designed with the supermom in mind!
When it comes to baby brands, there are so many great companies out there producing some incredible stuff. On an international level, we are of course envious of some of the adventurous, fun and fabulous products on the market (not all of which we can always get our hands on), so we simply cannot contain ourselves when every now and again we stumble across some equally great brands produced on our very own doorstep…
50 Shades of Pink
When it comes to wine, especially rosé, there are loads of guys who won't touch it. Maybe it's because they prefer a beer or a more refined spirit; maybe it's because it comes in a stemmed glass, who knows?. What we can say though, based on the confessions of our local wine fundi, Jan-Nico Coetzee, is that even the tough guys have a palate for rose, and thanks to the bottled beauties listed below, we now know just why.
is a national brand of premium free magazines available in centres across the country.
to see other Get It magazines in the network.