The Mara – a Place of Magic
Our accommodation left us speechless – set into a hillside with 360 degree panoramic views of the Mara –  the Serena Mara Hotel is perfectly situated with clear views over the famous Mara River, which during the migration period must be an absolutely mind blowing sight to behold.
The Airstrip is about 4km from the hotel and is what one would expect of a rustic small airport shelter ….including a toilet block. To the amazement of visitors, officials in charge of the airport have to regularly chase warthog, wildebeest and buffalo that graze in the area and have no apparent fear of aircraft.
The Mara is all about spotting game ……and there is plenty of it. Visiting this area in March, which is actually out of season, did not lessen our chances of seeing big herds of elephant, buffalo, hippo and numerous other wildlife.
A hot air balloon ride topped off with a bush breakfast is also a bucket list must. An early five in the morning start is essential but the small sacrifice is worth it and once aloft in the magic of the still dawn morning….you fly with the sunrise at your back, soaked in amazing colours of the bushveld and all one can see is the marvellous game hiding in the nooks and crannies of the bush, and what a treat to see the shy animals like the hyena, jackal and  hippo…one hippo incidentally did not take kindly to a blast of gas into the hot air balloon and caused him or her to scamper through the swamp…so now I can say…It's true they run very very fast…..
The balloon only travels approximately 15 feet off the ground and rises to miss the trees. One really feels a part of nature and it unlocks an emotion in your body that is quite extraordinary. An average flight takes about 45 minutes and flies in a general direction so there is no precise science on where you will end up. This means the ground crew have to watch and anticipate your landing spot as well as fire up the breakfast ! The bush breakfast held on an open plain with tall grass, ensures you keep one eye open as it is the perfect hunting ground for lion. Our pilot Mike, an American from Alaska is sold on Kenya and its easy to see why. He has been flying balloons since the 70's and is a great character.
The Masai Mara and in particular the area traversing the hotel we stayed in the Mara Serena Hotel, is the much publicised and televised location of the annual migration and our guide takes you to the crossing points which are always full of crocodile and hippo waiting for the next meal.
There are numerous types of lodges in the area including an abundance of tented camps and the area caters for all types of budgets.
Whilst in the Mara it is important to visit a Masai cultural village. Here you will be educated on the story of the Masai, eloquently narrated by a village elder after which there is a question and answer session – if you don't ask a question you have to drink a bowl of cows blood, needless to say our group asked many questions. We are then guided around the village and shown how to make fire and how the huts are constructed. Afterwards we are taken to the Masai Market which is basically a circle in the village with a myriad of ornaments and trinkets available for purchase. Bartering is the name of the game and one can pick up a good deal in this manner. The Masai are a proud and intelligent people and they embrace the tourist dollar without losing the values of the Masai's histroy and culture which is vehemently protected and promoted. Donations and profits from the village we visited had enabled a nursery school to be built in the village.
An intersting fact about the Masai is that they are citizens of both Kenya and Tanzania and can travel freely across both borders. They are also allowed to wear their traditional clothing and weapons wherever they go.
Another must for a visitor to this area is to enjoy a Bush Sundowner.  Drinks and snacks on top of a hill overlooking the Mara as the sun goes down is exhilarating. Watched over by an armed Masai Warrior in full regalia who positions himself on a hillock and an armed guard with a perfectly conditioned .303 Lee Enfield rifle keeping a sharp lookout, our group enjoyed the scene whilst being caroused by a very talented guitar player with a voice as smooth as silk….detail is everything.
One thing we learnt in Kenya is that the hospitality industry takes no short cuts. The service everywhere is first class and there is a sheer joy in the faces of staff and management while they do their jobs. The guards are a very good idea….. remembering we are in the wild….. and as we leave a hyena comes out of the bushes to greet us. Fortunately we were all on board, but our host was still tidying up!
The Kenyan Tourism Board employees also exude an exciting and loving passion for their country and the promotion thereof. The Board's mantra is Pride of Africa. To this end it is not hard to see Kenya as the leading tourist destination of Africa in the very near future just on service deliverables. I also attribute this to a collective intitiative shown by the board employees and companies they interact with, who have a willingness to cooperate for the good of Kenya as a whole.
All that is left to say is….consider Kenya and the Masai Mara as a holiday destination. It is a life changing experience that one will not regret and Kenya is waiting for you with open arms.
A few useful tips:
Carry a square pronged adaptor for charging your phone or laptops
Carry US Dollars
Take Malaria tablets
Yellow fever vaccination certificate mandatory
No Visa required for South Africans for up to 30 days (these rules are subject to change – so please check Kenyan Government website for updates)
Do not take photographs of Official Government Buildings and other key point locations and security personnel
Vehicles drive on the left-hand side of the road
Do not drink tap water, hotels provide bottled water
All signage is in English (Road signs and advertising)
Swahili is the main local language but many people speak English
Smoking in public places including sidewalks is prohibited
Wi-Fi is very good and free at most hotels and lodges
Leave only your footprints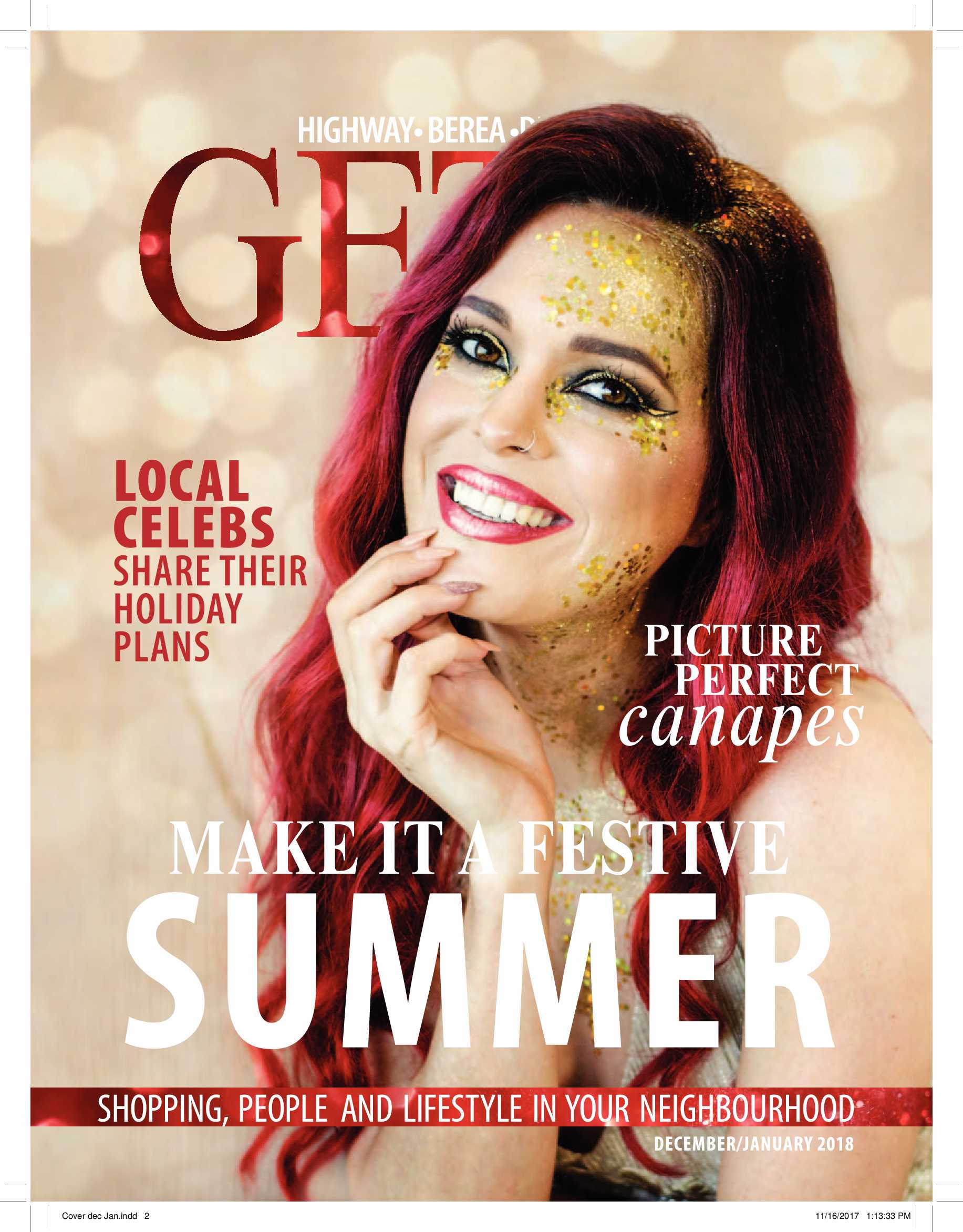 Get It Magazine Durban December 2017
Make it a festive summer
View magazine

Season's Greetings
Let the magic happen around the table this year. Gather your loved ones for the festive feast with all the trimmings and create some new memories.
Cancer: A love Story
Cancer: A love Story is Lauren Segal's achingly tender memoir, which starts one wintery morning in 2014 when she receives a call from her husband. The furthest thing from her mind is her biopsy results.
It's going to be a delicious festive season…
This year's holiday season will be jolly delicious as Cadbury plans to share the joy with three new treats, and we're hoping for at least one of each of these in our stockings!
Kahvé Road coffee capsules
Kahvé Road, premium coffee and patisserie specialist has extended its offering to its own premium coffee capsule range which is available at the popular eatery based in Cape Town, as well as online.
An easy going classic rocking horse
Make playtime active with the Hape Rock and Ride Rocking Horse from Toy Kingdom. This perfectly-balanced ride-on can take kids for a slow-and-steady trot or a rocking gallop.
Celebrate the special moments in life with Nomination
Nomination's new collection of Composable links is called Life, because each link reflects an important moment in your life.
An elegant and iridescent palate pleaser
Following Krone's tradition of hand-picking their grapes under the stars in the cool of the night to retain flavour and aroma, the Krone Borealis was named after the 'Corona Borealis' constellation of stars.
Discover Huggies Pants, designed for active babies
Is your baby becoming more active or wriggling at change time?
Enchanting eye colours
Discover eyes that shine with dazzling beauty. With a sweep of brilliance, these Enchanting Eye Colours from Mii create instant allure to give a sheer look layered with sophisticated shimmer.
The ultimate Robertson Winery Summer Hamper
Robertson Winery Lightly Sparkling Sauvignon Blanc is not a light wine and it is not a sparkling wine; it's a lightly sparkling wine – produced from top quality grapes, with intense fruit flavours of grapefruit, melon and passionfruit and an added dazzle of tiny bubbles for innervigorating summer pleasure.
is a national brand of premium free magazines available in centres across the country.
to see other Get It magazines in the network.