The Comrades Marathon and the Remembrance Poppy
Support is given by the Legion in the form of food parcels, clothing, medical assistance and accommodation.  The Legion is self-sustaining as no Government funding or grants are received.  Public contributions are normally in the form of donations and a red poppy is handed to the donor as a token of appreciation and recognition.
"In Flanders fields the poppies blow between the crosses, row on row…"
The epic World War 1 poem, In Flanders Fields (see full poem below), by the Canadian doctor, Lieutenant Colonel John McCrae, was the inspiration behind the adoption of the Remembrance Poppy as a memorial to those men and women who made the supreme sacrifice during that tragic conflict.  The SA Legion of Military Veterans are currently in the centenary period of the 1914-1918 "Great War", also known as World War 1, where tens of millions died in the defence of freedom from tyranny.  Many thousands were South African servicemen and women.
The Comrades Marathon and the Remembrance Poppy share a unique moment of conception.
When Vic Clapham returned from military service in 1918, he set out to create a memorial to those South Africans who died on the battlefields.  His dream was a foot race between the cities of Pietermaritzburg and Durban.  After three years of endeavour, his dream materialised when the first Comrades Marathon was staged in 1921.
That same year, the poppy was adopted as the international symbol of remembrance for all men and women who gave up their lives in that war.  Its significance has since been extended as a tribute to those who have fallen, in all subsequent conflicts anywhere, at any time, across the world.  It is a simple red flower that touches the hearts of everyone.
Thus, the SA Legion of Military Veterans kindly asks that you wear your poppy with pride on Comrades Day, not only as a memorial to the glorious dead of the past, but as a symbol of life… and the hope of peace for the future.
The SA Legion will be at the Comrades Expo in stand number B13 and will also have Watering Table 22 on the Day.
They are putting up an Avenue of Poppies in Front of the Wall of Honor, and have a Four-Night Mid-Week break at Banana Beach Holiday Resort to give away during the Comrades. They would like to challenge the public and runners to wear a Poppy on Comrades Day and to post a picture on Instagram using the hashtag #salegion #wearapoppy #werememberthem #comrades2017
Poppies can be collected from SA Legion at the expo or along the route. The SA Legion will also be handing Poppies to the runners to put on Arthur's Seat (see below).
In Flanders Fields
John McCrae, 1872 – 1918
In Flanders fields the poppies blow
Between the crosses, row on row,
That mark our place, and in the sky,
The larks, still bravely singing, fly,
Scarce heard amid the guns below.
We are the dead; short days ago
We lived, felt dawn, saw sunset glow,
Loved and were loved, and now we lie
In Flanders fields.
Take up our quarrel with the foe!
To you from failing hands we throw
The torch; be yours to hold it high!
If ye break faith with us who die
We shall not sleep, though poppies grow
In Flanders fields.
Comrades story  – Arthur's Seat

The 1920's produced the first of the Comrades greats. A 39 year old pipe smoking farmer from Harding, named Arthur Newton who won the race four times from 1922 to 1925 and again in 1927. He also set first astonishing Sub 7 hour run, changing the face of long distance running. Arthurs books and contributions to the sport were the foundations of the science we now follow today. In 1923, Arthurs refusal of the first place prize (as he felt he had an unfair advantage over his rivals due to his spare time for training as a farmer) show that from its very beginning, the comrades was to be a race that recognises the greatness of every runner who competed. This was solidified by the awarding of medals to everyone who finished in the allotted time, the ultimate of human races.
Arthur's Seat is situated just before Drummond/half way on the Up Run and just after Drummond/half way on the Down Run.  It is literally a "hole" that has been cut out of the bank and is reputed to be a favourite "resting spot" for Arthur Newton, a 5 times winner of the Comrades.  Legend has it that runners who greet Arthur and place a flower in his "seat" will have a good second half.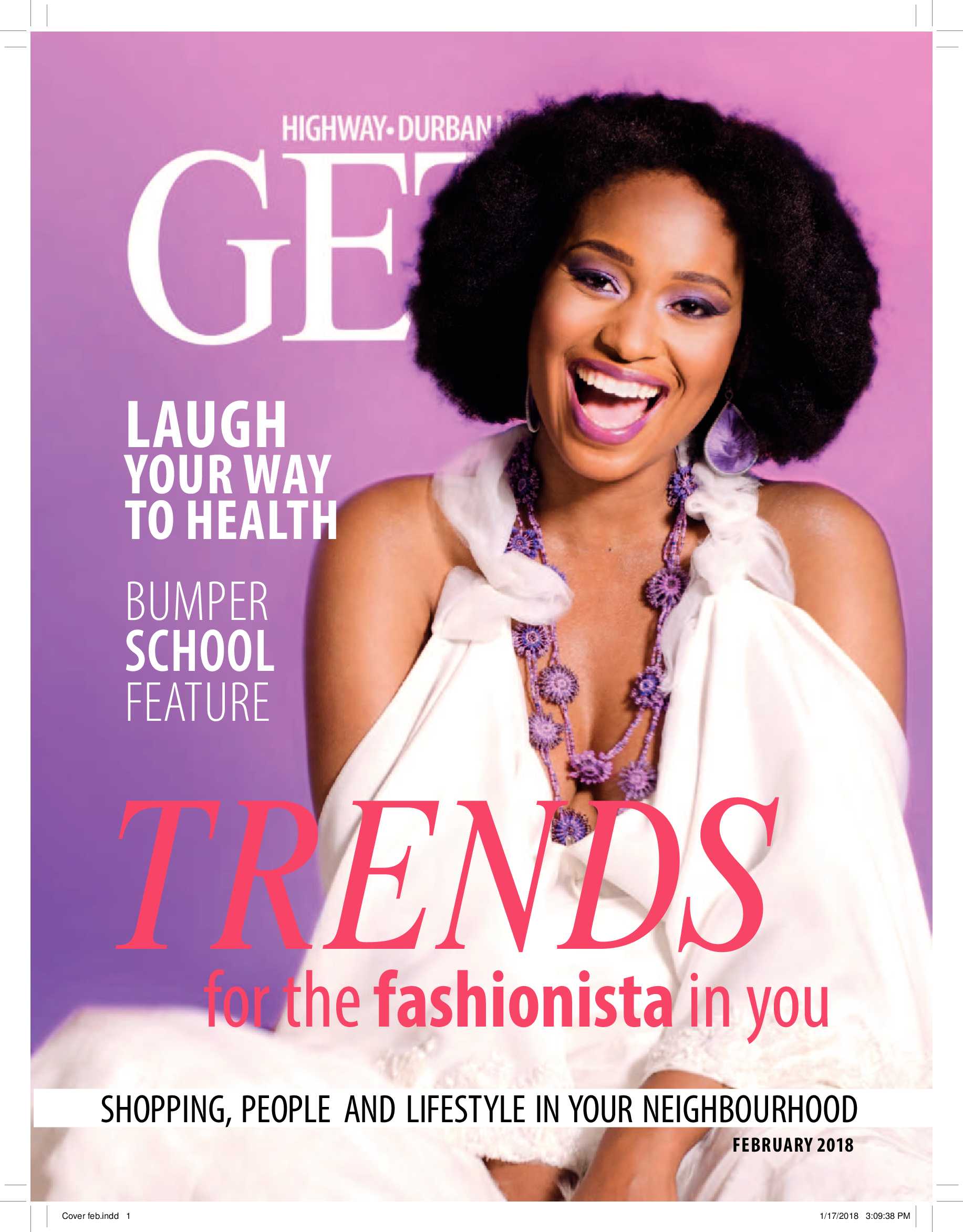 Get It Magazine Durban January 2018
Trends for the fashionista in you
View magazine

Chocolate Mozart
Renowned for their mouth-watering, decadent and convenient desserts, Chateau Gateaux has become Durban's most-loved Patisserie – an obsession to say the least.
As good as eating out
Let's face it. Budgets are tight. And eating out has become somewhat of a treat. But we've found the perfect solution … restaurant food at home.
Bespoke baby gear, designed with the supermom in mind!
When it comes to baby brands, there are so many great companies out there producing some incredible stuff. On an international level, we are of course envious of some of the adventurous, fun and fabulous products on the market (not all of which we can always get our hands on), so we simply cannot contain ourselves when every now and again we stumble across some equally great brands produced on our very own doorstep…
A Crazi kind of giveaway
There are only a few weeks left of the Crazi Erazi phenomenon that has swept the country since December, and this is your chance to win one of five complete sets of Crazi Erazi erasers that we are giving away.
STRETTON'S & Barker & Quin collaborate to reinvent G&T
Stretton's Gin have come to the rescue of all gin-lovers with a collaboration that's bound to be the talk of the town. The award-winning Gin brand partnered with tonic experts Barker and Quin to perfect a timeless classic – Gin and Tonic.
50 Shades of Pink
When it comes to wine, especially rosé, there are loads of guys who won't touch it. Maybe it's because they prefer a beer or a more refined spirit; maybe it's because it comes in a stemmed glass, who knows?. What we can say though, based on the confessions of our local wine fundi, Jan-Nico Coetzee, is that even the tough guys have a palate for rose, and thanks to the bottled beauties listed below, we now know just why.
February Spoil
Let your presence linger…
is a national brand of premium free magazines available in centres across the country.
to see other Get It magazines in the network.