The Comrades Marathon and the Remembrance Poppy
Support is given by the Legion in the form of food parcels, clothing, medical assistance and accommodation.  The Legion is self-sustaining as no Government funding or grants are received.  Public contributions are normally in the form of donations and a red poppy is handed to the donor as a token of appreciation and recognition.
"In Flanders fields the poppies blow between the crosses, row on row…"
The epic World War 1 poem, In Flanders Fields (see full poem below), by the Canadian doctor, Lieutenant Colonel John McCrae, was the inspiration behind the adoption of the Remembrance Poppy as a memorial to those men and women who made the supreme sacrifice during that tragic conflict.  The SA Legion of Military Veterans are currently in the centenary period of the 1914-1918 "Great War", also known as World War 1, where tens of millions died in the defence of freedom from tyranny.  Many thousands were South African servicemen and women.
The Comrades Marathon and the Remembrance Poppy share a unique moment of conception.
When Vic Clapham returned from military service in 1918, he set out to create a memorial to those South Africans who died on the battlefields.  His dream was a foot race between the cities of Pietermaritzburg and Durban.  After three years of endeavour, his dream materialised when the first Comrades Marathon was staged in 1921.
That same year, the poppy was adopted as the international symbol of remembrance for all men and women who gave up their lives in that war.  Its significance has since been extended as a tribute to those who have fallen, in all subsequent conflicts anywhere, at any time, across the world.  It is a simple red flower that touches the hearts of everyone.
Thus, the SA Legion of Military Veterans kindly asks that you wear your poppy with pride on Comrades Day, not only as a memorial to the glorious dead of the past, but as a symbol of life… and the hope of peace for the future.
The SA Legion will be at the Comrades Expo in stand number B13 and will also have Watering Table 22 on the Day.
They are putting up an Avenue of Poppies in Front of the Wall of Honor, and have a Four-Night Mid-Week break at Banana Beach Holiday Resort to give away during the Comrades. They would like to challenge the public and runners to wear a Poppy on Comrades Day and to post a picture on Instagram using the hashtag #salegion #wearapoppy #werememberthem #comrades2017
Poppies can be collected from SA Legion at the expo or along the route. The SA Legion will also be handing Poppies to the runners to put on Arthur's Seat (see below).
In Flanders Fields
John McCrae, 1872 – 1918
In Flanders fields the poppies blow
Between the crosses, row on row,
That mark our place, and in the sky,
The larks, still bravely singing, fly,
Scarce heard amid the guns below.
We are the dead; short days ago
We lived, felt dawn, saw sunset glow,
Loved and were loved, and now we lie
In Flanders fields.
Take up our quarrel with the foe!
To you from failing hands we throw
The torch; be yours to hold it high!
If ye break faith with us who die
We shall not sleep, though poppies grow
In Flanders fields.
Comrades story  – Arthur's Seat

The 1920's produced the first of the Comrades greats. A 39 year old pipe smoking farmer from Harding, named Arthur Newton who won the race four times from 1922 to 1925 and again in 1927. He also set first astonishing Sub 7 hour run, changing the face of long distance running. Arthurs books and contributions to the sport were the foundations of the science we now follow today. In 1923, Arthurs refusal of the first place prize (as he felt he had an unfair advantage over his rivals due to his spare time for training as a farmer) show that from its very beginning, the comrades was to be a race that recognises the greatness of every runner who competed. This was solidified by the awarding of medals to everyone who finished in the allotted time, the ultimate of human races.
Arthur's Seat is situated just before Drummond/half way on the Up Run and just after Drummond/half way on the Down Run.  It is literally a "hole" that has been cut out of the bank and is reputed to be a favourite "resting spot" for Arthur Newton, a 5 times winner of the Comrades.  Legend has it that runners who greet Arthur and place a flower in his "seat" will have a good second half.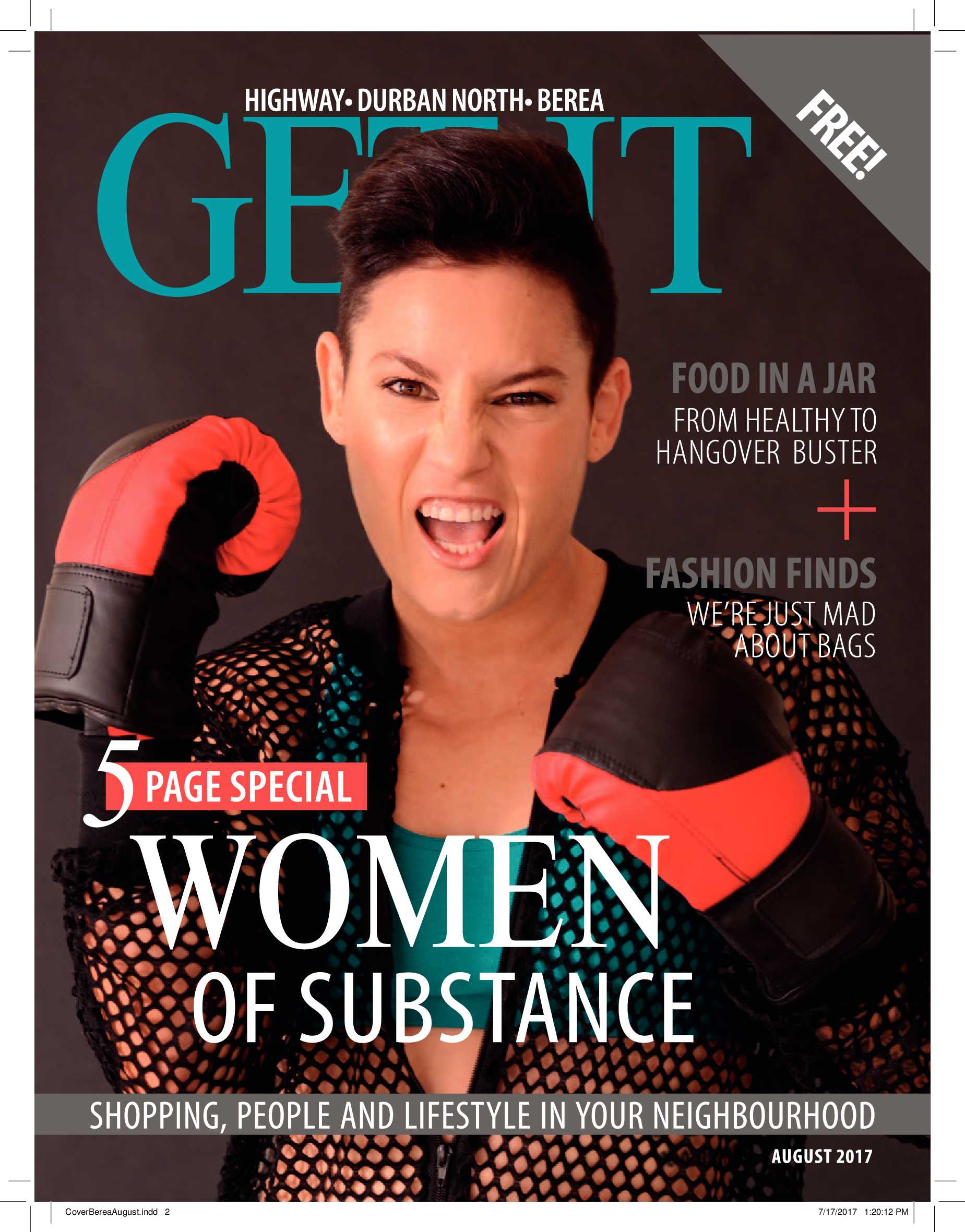 Durban Get It Magazine – August 2017
Women of substance
View magazine

Autostyle Motorshow 2017
The 14th edition of the Autostyle Motor show is back. Please save the date Sunday 17 September 2017.
Giveaway- a night of hilarious stand-up comedy entertainment at Butler's Restaurant in Hillcrest
Win 4 Tickets to a Stand-up Comedy Night! …proudly brought to you by On Fire Comedy, Savanna Cider and East Coast Radio! Date: Saturday 02 September 2017 Venue: Butler's Restaurant (24 Old Main Rd, Hillcrest) Start time: 8:30pm Closing Date: 30th August
8-TREK: The economical all-purpose ointment
8-Trek has grown in popularity and now it is available in two sizes, the small 25ml for bags and travel and a bigger 50ml tube which is for the home.
Luxurious, chocolaty secrets
Don't like dark chocolate because of its bitter taste? We've got just the right fix for you… Lindt's Excellence Mild 70%.
Paisleys & Posies
Yes, we know it's not officially Spring yet but let's face it, here in Durbs winter isn't really a thing. In anticipation of the up-coming new season, we've taken a sneak peek at the nine new fabrics that have joined Lou Harvey's troupe of beautiful, bright and functional lifestyle accessories, and we've already started shopping!
Win with Pediasure
Children naturally have high energy requirements to support their growth and development, in addition to what they need for activity, sport and play time. If they do not get enough energy from food, they may become tired, irritable, and have poor concentration, losing their interest in being active. PediaSure® Complete is a nutrient-rich, lactose-free drink that provides balanced nutrition for children from age three to ten, experiencing growth challenges. Long-term clinical studies using two glasses of Pediasure® Complete daily has been associated with improved appetite and physical activity and a reduction in the number of sick days.
Airtushi – The Inflatable Travel Highchair
The Airtushi is an inflatable booster seat for kids. You can use it on planes, and attach it to almost any seat as a high chair.
July Spoil
Crabtree & Evelyn is renowned around the world for beautiful gifts and everyday luxuries that capture the essence of British style. Rich, indulgent body butters, nourishing cleansers, intensive, award-winning hand therapies – all the essentials your body craves. And then… they created La Source… a wealth of therapeutic marine goodness for head to toe nourishment, and we just love the stuff!
Handmade with love
Anything made locally and with love is something we just have to own, which is why we can't stop raving about the stunning range of heirloom artisan pendants from Home-Industry, in particular, their Unity Necklace (valued at R1380) consisting of four sterling silver organic rings beautifully displayed on a rolo slide chain and personalised to your liking.
is a national brand of premium free magazines available in centres across the country.
to see other Get It magazines in the network.