Avos: versatile, vibrant and valuable
It's true, avos are all-rounders: they're versatile, convenient and offer nutritional benefits. For example, you probably already know avos are high in monounsaturated fat¹, naturally free from cholesterol and sodium², and are a source of potassium³. But did you know that because of this nutrient composition (and because they contribute to your fruit and vegetable intake), avos also meet  the criteria for inclusion in diets aimed at lowering blood pressure? This is important, as South African has one of the highest worldwide rates of hypertension – a major risk factor for cardiovascular disease.
Luckily, including avos in your daily diet is really easy. They're quick and easy to use (no mess, no fuss!); they go with every meal and every snack (from breakfast to dessert, lunchbox to padkos); and double up as a convenient, on-the-go meal in their own right (salad jars, eat your heart out).
Our go-to avo recipes this year include rostis topped with avo and poached egg; avo  smoothies; chic salad with avo and braaied sweet corn; couscous and quinoa salad bowls with sliced avo 'fans'; grilled chicken breast Kotas with avo mayo; and cauli-rice salad topped with avo.
Oh, and did we mention avos are still trending on Pinterest? That's right, some of the biggest names in foodie fame are predicting vegetarian and vegan recipes will be huge this year, with avos leading the charge. Baked avo fries, avo burger buns (yes, the avo is the bun!) and avo-laced Buddha bowls are all on the international gourmand's menu for 2017, spurring the sustained global demand for avos.
In South Africa, demand for avos continues to grow too. With all this to their credit, it's no wonder the South African Avocado Growers' Association (SAAGA) is encouraging all South Africans to Add an Avo to every meal this avo season!
SAAGA celebrates its 50th anniversary this year as a voluntary association. It was established in 1967 when the first meeting of South African avocado growers was held in Tzaneen to look at ways to better promote and sell SA avos locally and abroad.
SAAGA is a true success story, demonstrating the effects of voluntary co-operation on a national level that has seldom, if ever before, been achieved in the agricultural sphere in South Africa.
From the first avo orchard planted in the 1920s, there are now 16 000 hectares of avocado trees in the country, tended by dozens of avo farmers who all work together for the good of the industry. SAAGA has also been instrumental in changing consumers' perceptions of avos, from an 'unhealthy' fruit to one offering important health benefits.
Notes:
Nutrient values as per MRC Food Finder 3:
¹ Monounsaturated fats: 15.6g (per 100g) and 11.3g (per 72g – half an avo)
² Sodium: 3mg (per 100g) and 2mg (per 72g)
³ Potassium: 583mg (per 100g) and 420mg (per 72g)
Add an Avo…
Add an Avo – to your breakfast
Top your favourite breakfast rosti or health bread with shaved avo and a poached egg for a power-packed start to your day.
Add an Avo to your smoothie (Paleo/vegan/gluten free)
Whizz an avo with coconut or almond milk for a delicious and nutritious meal in a glass for those time pressed mornings.
Add an Avo to your braai salad (Paleo/vegan/ gluten free)
Halve avocados and toss gently with cherry tomatoes, grilled sweetcorn, kidney beans, chopped chives and peppadews. Serve with a squeeze of lime juice and freshly ground black pepper.
Add an Avo to your lunch box (Paleo/vegan)
Packed with healthy fats, high in nutritional value and delicious – avocado is a complete meal, just add salt & pepper.
Add an Avo to your rice salad bowl (vegan)
Arrange couscous, brown rice or sushi rice in a bowl, add carrot shavings, cucumber slices, sprouts, beetroot and sliced avo.
Add an Avo to your cauliflower-rice salad
(Paleo/gluten free/ vegan/lactose free/egg free)
Whizz avocado in a blender with a squeeze of lemon juice and 1-2 tablespoons of good quality olive oil.  Season and use as an eggless mayo replacement on cauli-rice for a grain free rice salad. Top with chopped avo and Italian parsley.
Add an Avo to your Kota
Fill your half loaf with grilled chicken breast, salad, slice avo and creamy avo mayo (avo mayo as above).
Add an Avo to your sandwich
Top your health bread sandwich with avo, hummus, pesto and lemon for a quick and tasty snack.
Avo burger 
Replace hamburger buns with avocado halves for a fun and wheat-free slider burger.
For more avolicious recipes visit www.avocado.co.za and Like us on Facebook iloveavocadoSA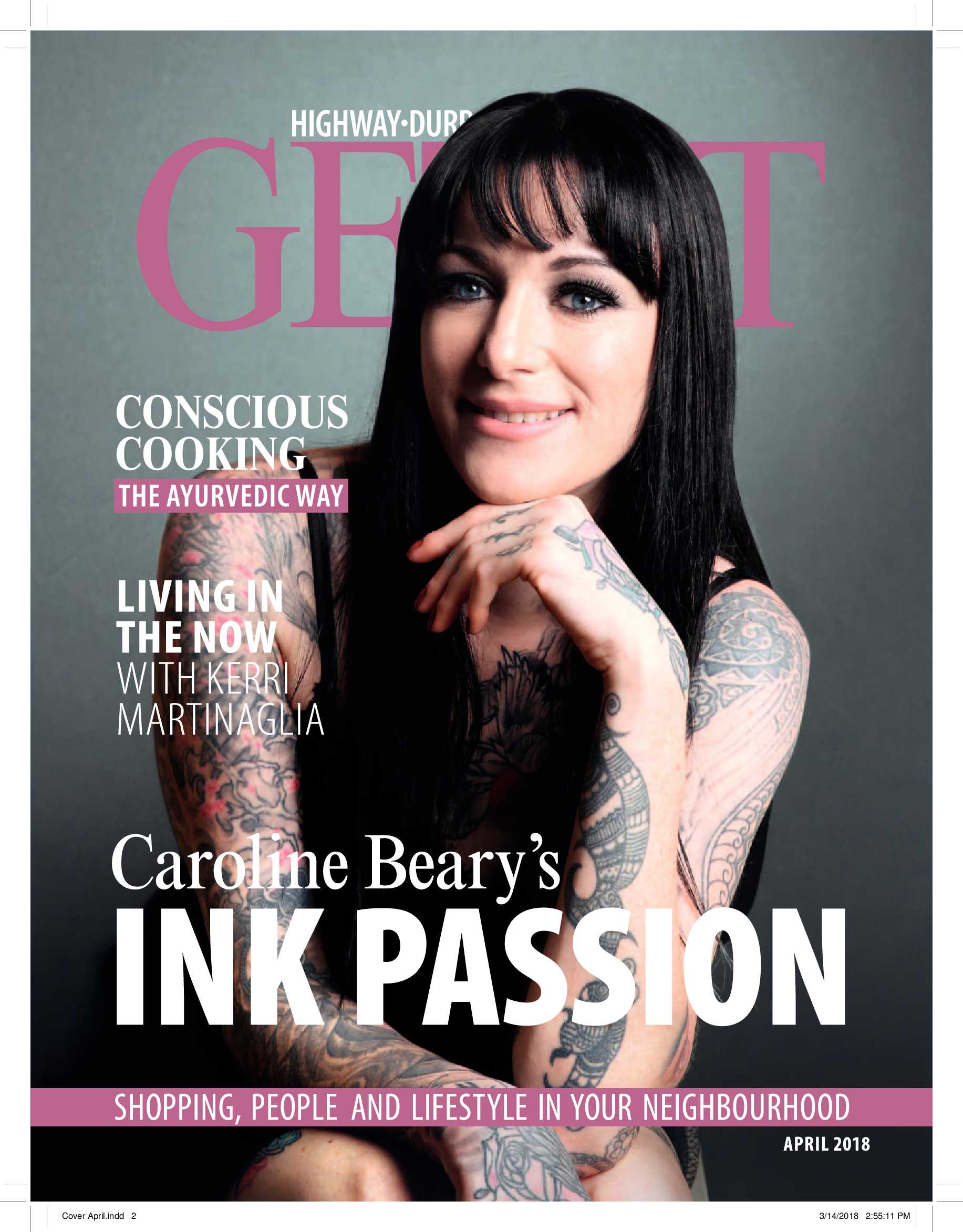 Durban Get It Magazine April 2018
Caroline Beary's Ink Passion
View magazine

May the sounds be with you at Music at Makaranga
If music, food and fun with friends and family is how you love to spend your Sundays, then grab your tickets now to Music at Makaranga this 6 May !
April Spoil
An obvious winner in terms of style and space!
is a national brand of premium free magazines available in centres across the country.
to see other Get It magazines in the network.