The Juicy Facts about Juicing
The pros
Maybe you hate veggies? Or maybe you find breakfast difficult to stomach in general? Juicing can be a great way to ingest a whole lot of nutrients that you may simply have avoided in their "normal" state, especially with non-obvious breakfast foods like spinach or broccoli. It's also fun coming up with different concoctions, and seeing which you prefer! Juicing can also be a good way to hit the "reset" button mentally, as you switch from overindulging to "eating clean". And finally, instead of gobbling down those bacon and eggs, there is much evidence to suggest that a more plant-based diet is linked to lower risks of heart disease and cancer.
The cons
Juicing is not quite the equivalent of eating whole fruits and vegetables. While many juicing gadgets do claim to include as much of the whole food item as possible, there is much they can't get out, including fibre. Also, while a juicing diet may seem a simple way to lose weight, it may not make you feel as full (because you're not getting enough protein) and this could lead to you filling up on other less healthy things. Fruits are also packed with natural sugars, which can up that kilojoule count to one far higher than you imagine. You may also feel a bit tired, nauseous or fatigued if you're only surviving on juice.
What risks are there associated with a juicing diet or cleanse?
Adding juice to your diet is great but going on a one-day, three-day or longer juice cleanse needs to be undertaken only if you've done the proper research. Why? Well there are several risks associated with a juice cleanse:
Not enough protein. Some juice cleanses include almond milk in their daily drinks to help with this, but it still may not be enough to regenerate muscles and build healthy immune cells. This could lead to your immune system being compromised, you getting an infection and then having to use your medical savings account or own cash to pay for doctors' bills and medicine.
The low calorie count could slow your metabolism. Because your body is consuming less calories, it could go into "starvation mode", trying to conserve calories – meaning that once you start eating normally again, you quickly gain any weight you lost (plus more, in some cases).
High sugar content could lead to weight gain. On the other side of the coin, the high sugar count in fruit is what makes it so delicious, but it could also lead to you consuming more kilojoules than you think you are.
Watch out for bacteria. Because you're making the juice yourself, you could pick up germs from the raw produce you're using – leading to a variety of illnesses. Always thoroughly wash everything that goes into your juice, so you can avoid this.
So, how do I incorporate juicing into my life in a healthy way?
If you're convinced that a juice cleanse is for you, check with your doctor before embarking on it. Also make sure that you don't go from eating a fatty diet to a juice cleanse straight away – rather avoid dairy, alcohol and caffeine for a few days before the cleanse, in order to prepare your body.
In order to add protein to your juices, try and incorporate almond butter, chia seeds or flaxseed – they're delicious as well as filling! Also make sure to include more veggies in your juices than fruits, so you keep that kilojoule count moderate.
The juicy truth? When enjoyed in moderation, there are benefits to juicing because it's a tasty and fun way to get those vitamins and minerals down your gullet. However, the best way to live a balanced and healthy life is to eat a well-balanced diet that is made up of all food groups.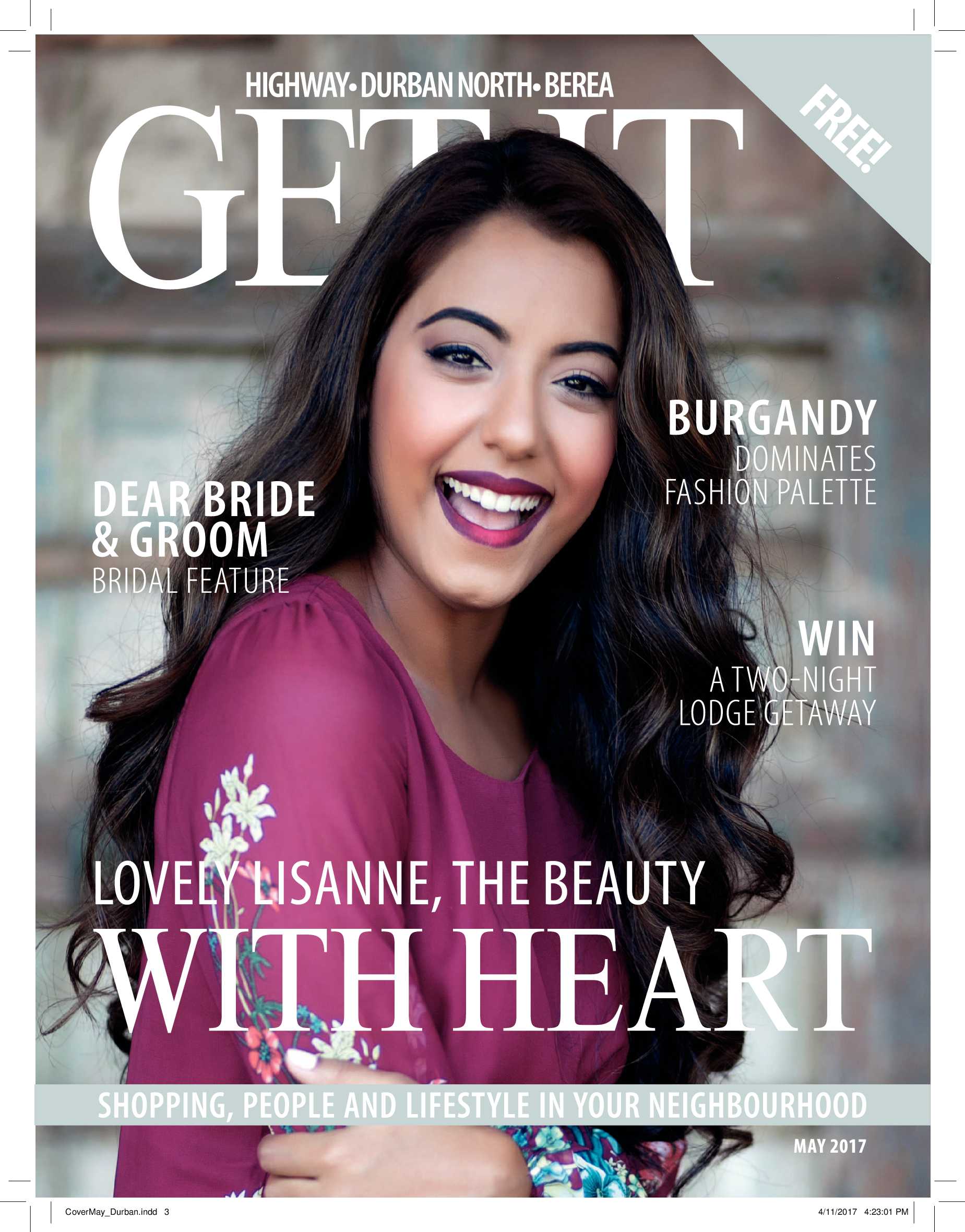 Durban Get It Magazine – May 2017
Lovely Lisanne, the beauty with a heart
View magazine

Fancy winning a designer cushion for Mother's Day
Isabel Walsh , owner of Creative Concepts /Isabeltable7 has one of these beautiful designer cushions to give away to one lucky reader this Mothers Day. The lucky winner can choose from one of these three beautiful designs above.
Making music together
Don't miss this incredible Mother's Day Concert at the Wavehouse, Gateway on Sunday, 14 May 2017 at 3pm.
May Spoil
Furnish your home with a click of a button…
The magic of a safari wedding – and what it takes to get there
A huge decision for any bridal couple is the venue for the wedding ceremony and reception. A venue situated in a unique location (other than the local church or community hall) has enormous potential in providing an exceptional experience that will be remembered for a lifetime.
Whisky Live Celebration visits Durban
Tickets are on sale for the Whisky Live Celebration taking place in Durban at the Wavehouse in Gateway from 1 to 3 June, 6pm to 10pm daily. Whether you're new to whisky or a seasoned connoisseur, there is a whisky to tantalise your tastebuds at this year's event.
Discover the Power of Natural with Nu-Eco
Just when you thought that helping the planet and making the eco-conscious choice would mean that you had to compromise on efficacy, a phenomenal product called Nu Eco was launched. With powerful all-natural cleaning agents and anti-microbial oils, your dishes are clean, your surfaces sparkling, your washing bright, and your whole home smells fresh.
Magnificent Victoria Falls, the perfect holiday adventure
Family holidays are the best times and provide memories that last forever. Planning a holiday that ticks all the boxes for everyone in the family is no easy feat which is why we've picked a family escape to Victoria Falls in Zimbabwe as a surefire winner when it comes to family fun and adventure.
April spoil
Beautiful on the inside as it is on the outside.
March Spoil
Time to enjoy special moments.
November Spoil
It's a jungle out there and we're going wild!
is a national brand of premium free magazines available in centres across the country.
to see other Get It magazines in the network.