The Juicy Facts about Juicing
The pros
Maybe you hate veggies? Or maybe you find breakfast difficult to stomach in general? Juicing can be a great way to ingest a whole lot of nutrients that you may simply have avoided in their "normal" state, especially with non-obvious breakfast foods like spinach or broccoli. It's also fun coming up with different concoctions, and seeing which you prefer! Juicing can also be a good way to hit the "reset" button mentally, as you switch from overindulging to "eating clean". And finally, instead of gobbling down those bacon and eggs, there is much evidence to suggest that a more plant-based diet is linked to lower risks of heart disease and cancer.
The cons
Juicing is not quite the equivalent of eating whole fruits and vegetables. While many juicing gadgets do claim to include as much of the whole food item as possible, there is much they can't get out, including fibre. Also, while a juicing diet may seem a simple way to lose weight, it may not make you feel as full (because you're not getting enough protein) and this could lead to you filling up on other less healthy things. Fruits are also packed with natural sugars, which can up that kilojoule count to one far higher than you imagine. You may also feel a bit tired, nauseous or fatigued if you're only surviving on juice.
What risks are there associated with a juicing diet or cleanse?
Adding juice to your diet is great but going on a one-day, three-day or longer juice cleanse needs to be undertaken only if you've done the proper research. Why? Well there are several risks associated with a juice cleanse:
Not enough protein. Some juice cleanses include almond milk in their daily drinks to help with this, but it still may not be enough to regenerate muscles and build healthy immune cells. This could lead to your immune system being compromised, you getting an infection and then having to use your medical savings account or own cash to pay for doctors' bills and medicine.
The low calorie count could slow your metabolism. Because your body is consuming less calories, it could go into "starvation mode", trying to conserve calories – meaning that once you start eating normally again, you quickly gain any weight you lost (plus more, in some cases).
High sugar content could lead to weight gain. On the other side of the coin, the high sugar count in fruit is what makes it so delicious, but it could also lead to you consuming more kilojoules than you think you are.
Watch out for bacteria. Because you're making the juice yourself, you could pick up germs from the raw produce you're using – leading to a variety of illnesses. Always thoroughly wash everything that goes into your juice, so you can avoid this.
So, how do I incorporate juicing into my life in a healthy way?
If you're convinced that a juice cleanse is for you, check with your doctor before embarking on it. Also make sure that you don't go from eating a fatty diet to a juice cleanse straight away – rather avoid dairy, alcohol and caffeine for a few days before the cleanse, in order to prepare your body.
In order to add protein to your juices, try and incorporate almond butter, chia seeds or flaxseed – they're delicious as well as filling! Also make sure to include more veggies in your juices than fruits, so you keep that kilojoule count moderate.
The juicy truth? When enjoyed in moderation, there are benefits to juicing because it's a tasty and fun way to get those vitamins and minerals down your gullet. However, the best way to live a balanced and healthy life is to eat a well-balanced diet that is made up of all food groups.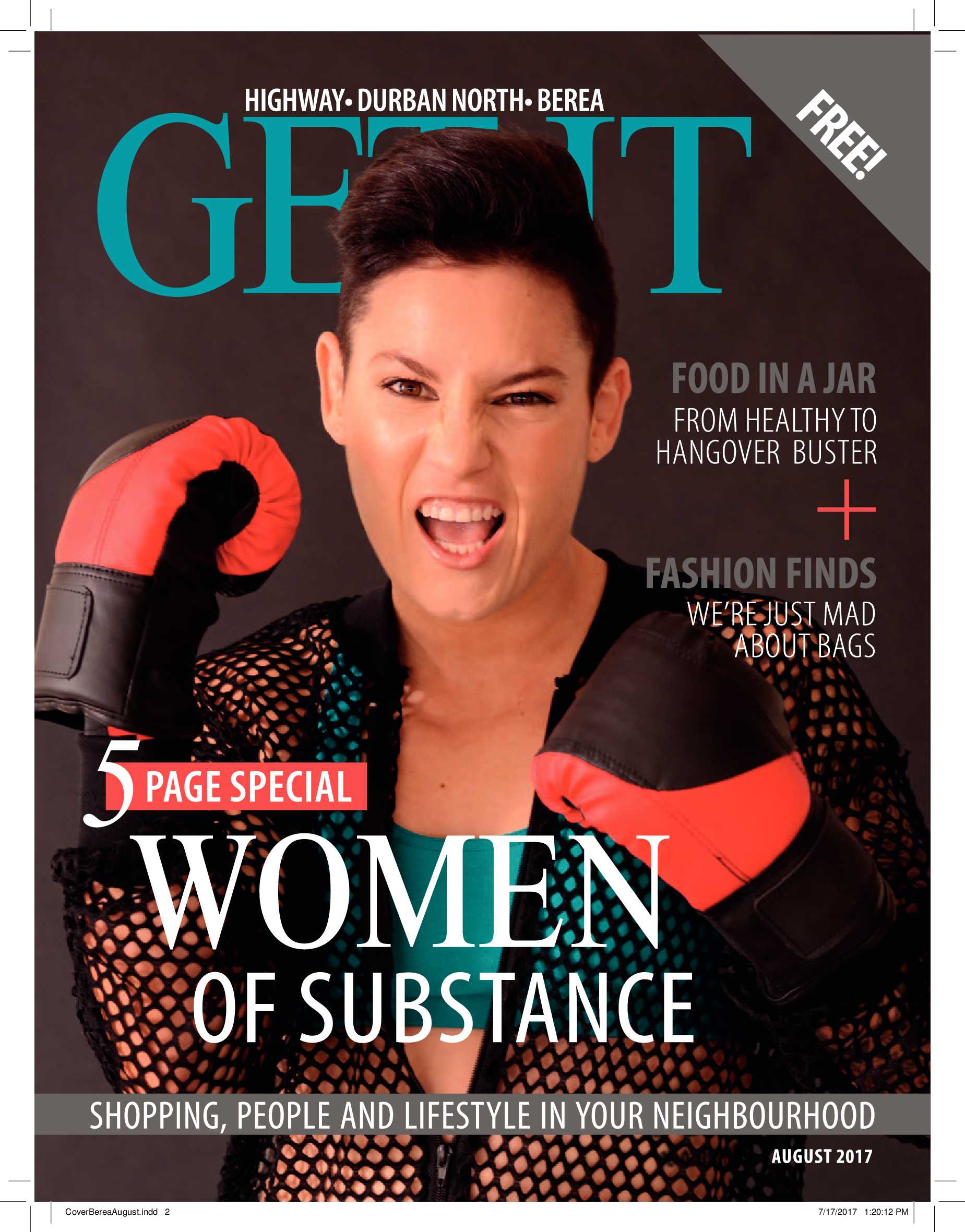 Durban Get It Magazine – August 2017
Women of substance
View magazine

Autostyle Motorshow 2017
The 14th edition of the Autostyle Motor show is back. Please save the date Sunday 17 September 2017.
Giveaway- a night of hilarious stand-up comedy entertainment at Butler's Restaurant in Hillcrest
Win 4 Tickets to a Stand-up Comedy Night! …proudly brought to you by On Fire Comedy, Savanna Cider and East Coast Radio! Date: Saturday 02 September 2017 Venue: Butler's Restaurant (24 Old Main Rd, Hillcrest) Start time: 8:30pm Closing Date: 30th August
8-TREK: The economical all-purpose ointment
8-Trek has grown in popularity and now it is available in two sizes, the small 25ml for bags and travel and a bigger 50ml tube which is for the home.
Luxurious, chocolaty secrets
Don't like dark chocolate because of its bitter taste? We've got just the right fix for you… Lindt's Excellence Mild 70%.
Paisleys & Posies
Yes, we know it's not officially Spring yet but let's face it, here in Durbs winter isn't really a thing. In anticipation of the up-coming new season, we've taken a sneak peek at the nine new fabrics that have joined Lou Harvey's troupe of beautiful, bright and functional lifestyle accessories, and we've already started shopping!
Win with Pediasure
Children naturally have high energy requirements to support their growth and development, in addition to what they need for activity, sport and play time. If they do not get enough energy from food, they may become tired, irritable, and have poor concentration, losing their interest in being active. PediaSure® Complete is a nutrient-rich, lactose-free drink that provides balanced nutrition for children from age three to ten, experiencing growth challenges. Long-term clinical studies using two glasses of Pediasure® Complete daily has been associated with improved appetite and physical activity and a reduction in the number of sick days.
Airtushi – The Inflatable Travel Highchair
The Airtushi is an inflatable booster seat for kids. You can use it on planes, and attach it to almost any seat as a high chair.
is a national brand of premium free magazines available in centres across the country.
to see other Get It magazines in the network.