Roasted cauliflower lasagne
Ingredients
8 cups cauliflower florets
2 tablespoons olive oil, plus more for coating the lasagna noodles
Salt
One 793-gram can of no-salt added whole plum tomatoes
5 cloves garlic, 4 sliced and 1 chopped
1 large red pepper, diced
2 tablespoons tomato paste
1 cup fresh basil leaves
226 grams whole-wheat lasagne sheets (about 10 sheets)
1 cup light ricotta
1 large egg
1 cup shredded light mozzarella
1/4 cup grated Parmesan, or vegetarian alternative
2 tablespoons fresh flat-leaf parsley leaves, chopped
Method
Preheat the oven to 220°C.
Toss the cauliflower in a bowl with 1 tablespoon of the olive oil and 1/2 teaspoon salt. Spread the florets in an even layer on a baking sheet and roast, tossing once, until tender and golden brown in spots, 30 to 35 minutes. Cool slightly.
Put the tomatoes in a medium bowl and use your hands to crush them. Rinse the can with 1 1/2 cups water and add it to the bowl of tomatoes. Heat the remaining tablespoon of oil with four cloves sliced garlic and 1/2 teaspoon salt in a small Dutch oven over medium heat until the garlic begins to sizzle and becomes aromatic, about two minutes. Add the bell pepper and cook, stirring, until soft, about eight minutes. Add the tomato paste and stir to incorporate, about 30 seconds. Add the crushed tomatoes with their juice and four large leaves of basil. Bring to a boil, reduce the heat and simmer, stirring occasionally, until the sauce is thickened, about 40 minutes. You should have about three and 3/4 cups of sauce.
Meanwhile, bring a large pot of water to a boil. Drop the lasagna noodles one at a time into the pot. Cook according to the package directions until al dente. Drain the noodles in a colander. Add one to two teaspoons oil to the noodles, tossing to coat to prevent them from sticking, and drape over the side of a large bowl. Combine the ricotta, egg, one and 1/2 cups of the roasted cauliflower and one chopped clove garlic in a food processor and pulse until evenly pureed. Tear the remaining basil into small pieces, add to the food processor and pulse three to four more times to chop the basil finely, but not puree. Transfer the mixture to a medium bowl.
To assemble the lasagna, spread a thin layer of sauce (around 1/4 cup) on the bottom of a 9-by-13-inch baking dish. Lay four of the noodles on the bottom, without overlapping, cutting to fit, if necessary. Spread with half of the cauliflower-ricotta mixture, followed by half of the roasted cauliflower, one-third of the tomato sauce, one-third of the mozzarella and one-third of the Parmesan. Loosely fit three more noodles on top of the cheese without overlapping.
Spread with the remaining cauliflower-ricotta mixture, followed by the remaining roasted cauliflower, one-third more of the tomato sauce, one-third more of the mozzarella and one-third more of the Parmesan. Top with the remaining four lasagna noodles, cutting just to fit. Then add the remaining tomato sauce, mozzarella and Parmesan. Cover with foil and bake until bubbly and hot, about 20 minutes. Remove the foil and cook until the cheese begins to brown, about 10 minutes more. Allow to rest for 10 minutes so the lasagna will cut more easily. Garnish with parsley.
Recipe and image courtesy of www.foodnetwork.co.uk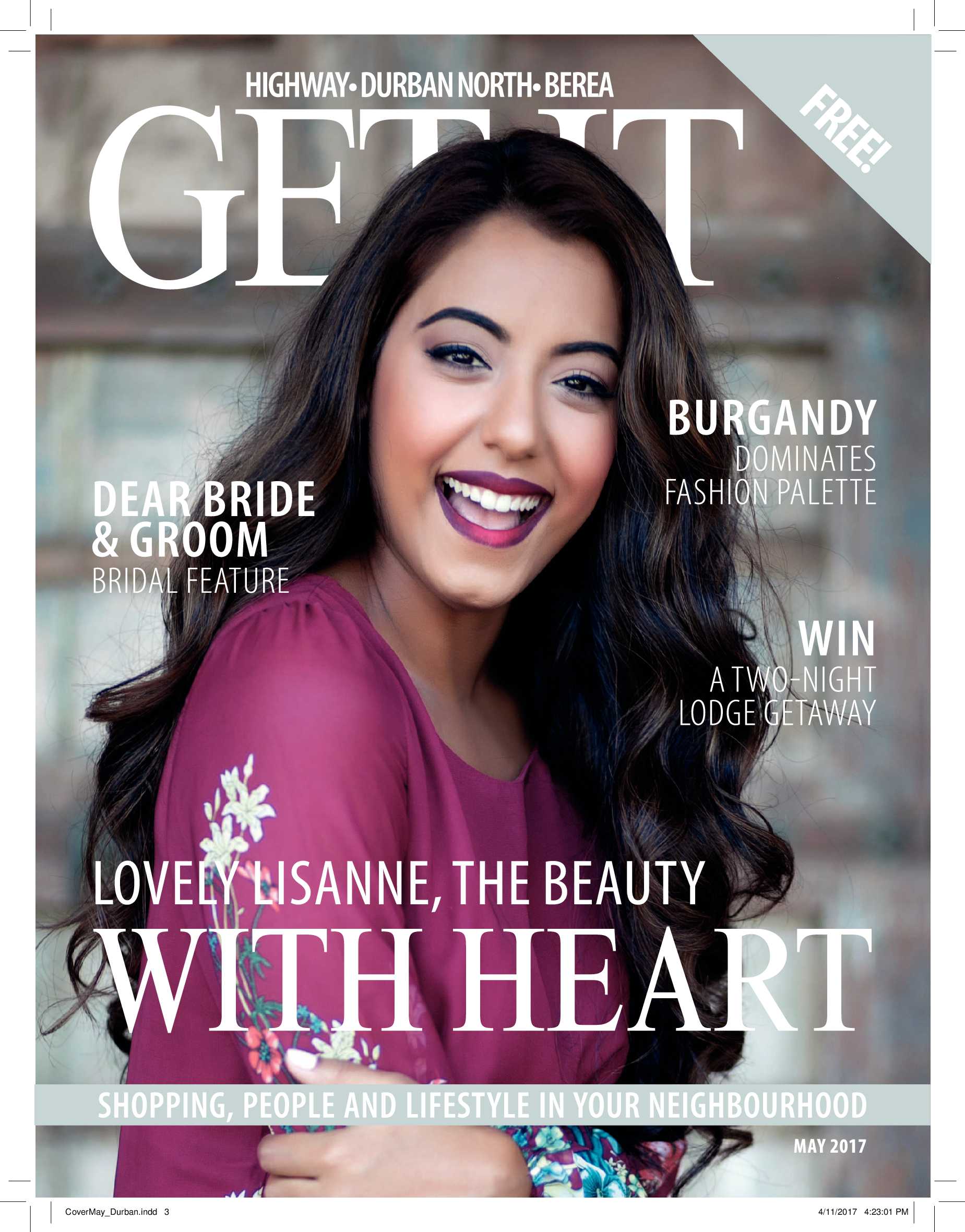 Durban Get It Magazine – May 2017
Lovely Lisanne, the beauty with a heart
View magazine

Fancy winning a designer cushion for Mother's Day
Isabel Walsh , owner of Creative Concepts /Isabeltable7 has one of these beautiful designer cushions to give away to one lucky reader this Mothers Day. The lucky winner can choose from one of these three beautiful designs above.
Making music together
Don't miss this incredible Mother's Day Concert at the Wavehouse, Gateway on Sunday, 14 May 2017 at 3pm.
May Spoil
Furnish your home with a click of a button…
The magic of a safari wedding – and what it takes to get there
A huge decision for any bridal couple is the venue for the wedding ceremony and reception. A venue situated in a unique location (other than the local church or community hall) has enormous potential in providing an exceptional experience that will be remembered for a lifetime.
Whisky Live Celebration visits Durban
Tickets are on sale for the Whisky Live Celebration taking place in Durban at the Wavehouse in Gateway from 1 to 3 June, 6pm to 10pm daily. Whether you're new to whisky or a seasoned connoisseur, there is a whisky to tantalise your tastebuds at this year's event.
Discover the Power of Natural with Nu-Eco
Just when you thought that helping the planet and making the eco-conscious choice would mean that you had to compromise on efficacy, a phenomenal product called Nu Eco was launched. With powerful all-natural cleaning agents and anti-microbial oils, your dishes are clean, your surfaces sparkling, your washing bright, and your whole home smells fresh.
Magnificent Victoria Falls, the perfect holiday adventure
Family holidays are the best times and provide memories that last forever. Planning a holiday that ticks all the boxes for everyone in the family is no easy feat which is why we've picked a family escape to Victoria Falls in Zimbabwe as a surefire winner when it comes to family fun and adventure.
April spoil
Beautiful on the inside as it is on the outside.
March Spoil
Time to enjoy special moments.
November Spoil
It's a jungle out there and we're going wild!
is a national brand of premium free magazines available in centres across the country.
to see other Get It magazines in the network.