Roasted cauliflower lasagne
Ingredients
8 cups cauliflower florets
2 tablespoons olive oil, plus more for coating the lasagna noodles
Salt
One 793-gram can of no-salt added whole plum tomatoes
5 cloves garlic, 4 sliced and 1 chopped
1 large red pepper, diced
2 tablespoons tomato paste
1 cup fresh basil leaves
226 grams whole-wheat lasagne sheets (about 10 sheets)
1 cup light ricotta
1 large egg
1 cup shredded light mozzarella
1/4 cup grated Parmesan, or vegetarian alternative
2 tablespoons fresh flat-leaf parsley leaves, chopped
Method
Preheat the oven to 220°C.
Toss the cauliflower in a bowl with 1 tablespoon of the olive oil and 1/2 teaspoon salt. Spread the florets in an even layer on a baking sheet and roast, tossing once, until tender and golden brown in spots, 30 to 35 minutes. Cool slightly.
Put the tomatoes in a medium bowl and use your hands to crush them. Rinse the can with 1 1/2 cups water and add it to the bowl of tomatoes. Heat the remaining tablespoon of oil with four cloves sliced garlic and 1/2 teaspoon salt in a small Dutch oven over medium heat until the garlic begins to sizzle and becomes aromatic, about two minutes. Add the bell pepper and cook, stirring, until soft, about eight minutes. Add the tomato paste and stir to incorporate, about 30 seconds. Add the crushed tomatoes with their juice and four large leaves of basil. Bring to a boil, reduce the heat and simmer, stirring occasionally, until the sauce is thickened, about 40 minutes. You should have about three and 3/4 cups of sauce.
Meanwhile, bring a large pot of water to a boil. Drop the lasagna noodles one at a time into the pot. Cook according to the package directions until al dente. Drain the noodles in a colander. Add one to two teaspoons oil to the noodles, tossing to coat to prevent them from sticking, and drape over the side of a large bowl. Combine the ricotta, egg, one and 1/2 cups of the roasted cauliflower and one chopped clove garlic in a food processor and pulse until evenly pureed. Tear the remaining basil into small pieces, add to the food processor and pulse three to four more times to chop the basil finely, but not puree. Transfer the mixture to a medium bowl.
To assemble the lasagna, spread a thin layer of sauce (around 1/4 cup) on the bottom of a 9-by-13-inch baking dish. Lay four of the noodles on the bottom, without overlapping, cutting to fit, if necessary. Spread with half of the cauliflower-ricotta mixture, followed by half of the roasted cauliflower, one-third of the tomato sauce, one-third of the mozzarella and one-third of the Parmesan. Loosely fit three more noodles on top of the cheese without overlapping.
Spread with the remaining cauliflower-ricotta mixture, followed by the remaining roasted cauliflower, one-third more of the tomato sauce, one-third more of the mozzarella and one-third more of the Parmesan. Top with the remaining four lasagna noodles, cutting just to fit. Then add the remaining tomato sauce, mozzarella and Parmesan. Cover with foil and bake until bubbly and hot, about 20 minutes. Remove the foil and cook until the cheese begins to brown, about 10 minutes more. Allow to rest for 10 minutes so the lasagna will cut more easily. Garnish with parsley.
Recipe and image courtesy of www.foodnetwork.co.uk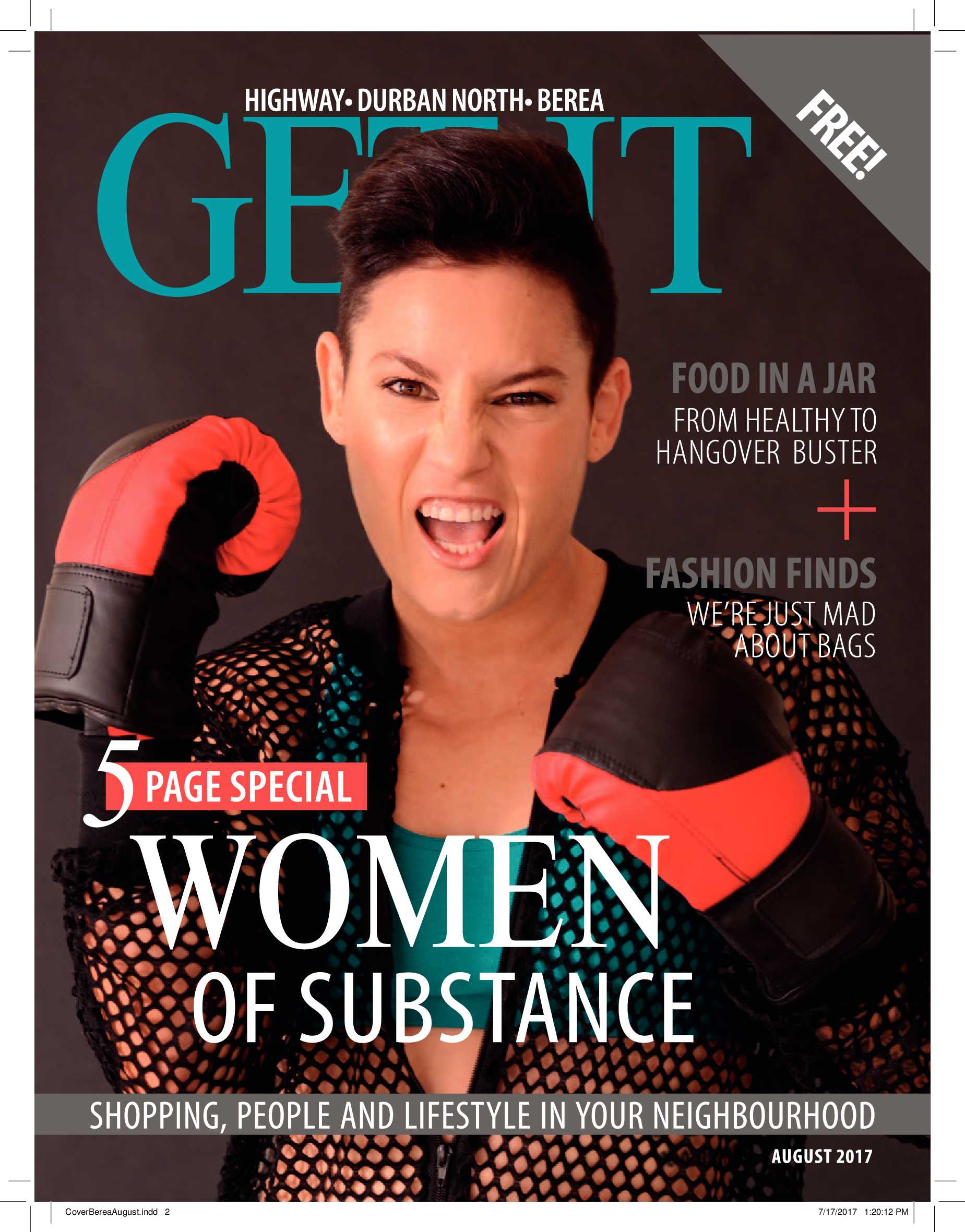 Durban Get It Magazine – August 2017
Women of substance
View magazine

Autostyle Motorshow 2017
The 14th edition of the Autostyle Motor show is back. Please save the date Sunday 17 September 2017.
Giveaway- a night of hilarious stand-up comedy entertainment at Butler's Restaurant in Hillcrest
Win 4 Tickets to a Stand-up Comedy Night! …proudly brought to you by On Fire Comedy, Savanna Cider and East Coast Radio! Date: Saturday 02 September 2017 Venue: Butler's Restaurant (24 Old Main Rd, Hillcrest) Start time: 8:30pm Closing Date: 30th August
8-TREK: The economical all-purpose ointment
8-Trek has grown in popularity and now it is available in two sizes, the small 25ml for bags and travel and a bigger 50ml tube which is for the home.
Luxurious, chocolaty secrets
Don't like dark chocolate because of its bitter taste? We've got just the right fix for you… Lindt's Excellence Mild 70%.
Paisleys & Posies
Yes, we know it's not officially Spring yet but let's face it, here in Durbs winter isn't really a thing. In anticipation of the up-coming new season, we've taken a sneak peek at the nine new fabrics that have joined Lou Harvey's troupe of beautiful, bright and functional lifestyle accessories, and we've already started shopping!
Win with Pediasure
Children naturally have high energy requirements to support their growth and development, in addition to what they need for activity, sport and play time. If they do not get enough energy from food, they may become tired, irritable, and have poor concentration, losing their interest in being active. PediaSure® Complete is a nutrient-rich, lactose-free drink that provides balanced nutrition for children from age three to ten, experiencing growth challenges. Long-term clinical studies using two glasses of Pediasure® Complete daily has been associated with improved appetite and physical activity and a reduction in the number of sick days.
Airtushi – The Inflatable Travel Highchair
The Airtushi is an inflatable booster seat for kids. You can use it on planes, and attach it to almost any seat as a high chair.
is a national brand of premium free magazines available in centres across the country.
to see other Get It magazines in the network.