Did you know?
1)     For those who wear their underwear inside out – it's actually considered to be very lucky. Also there are those who may have been having a really unlucky day, the only way to turn it around was to wear underwear inside out!
2)     It was believed to also be a sign of bad luck if an individual adjusted their underwear, especially for a man – so no scratching boys.. it may shift your luck.
3)     In the late 1920's, when a bride wanted to secure a happy marriage then she would need to attend the wedding without wearing any underwear. The belief was that if you didn't wear underwear, it was believed to be a sign of wholeness and appeasement to the gods of love, who in exchange would bring joy and happiness to the couple's love life. Well let's not ever go to that extreme – having beautiful underwear from Satin Candy can provide the same results.
4)     Another popular superstition was when a woman sleeps with underwear under her pillow she would dream of her future partner. Then there's the one where a woman who sleeps with her bra and also a garter under her pillow would see her eventual husband – really? – put the bra and panties on already.
5)     For the ladies out there, if your lingerie slip falls down, it's said you're thinking of your special someone. But if your nightgown rides up, he is thinking of you.
6)     Then there's tucking valerian leaves, a native plant to Britain. It's believed that if you tuck the leaves in your underwear you will become irresistible to the opposite sex.. just don't be allergic to the plant.. eina!
7)     This one really slays us – If a young girl wished to marry she would need to borrow underwear from a married woman, and if she wore it, it was considered very lucky .. euuughh now that's just not kosha! Hope it was clean underwear.
We at Satin Candy wish all of our customers a truly lucky Friday 13th  if you believe in luck! For everything underwear related we have your "number". So be sure to pop in and visit us at the Kloof or Durban North Store for some retail therapy and promising days. So, stay abreast for any more news! Go to www.satincandy.co.za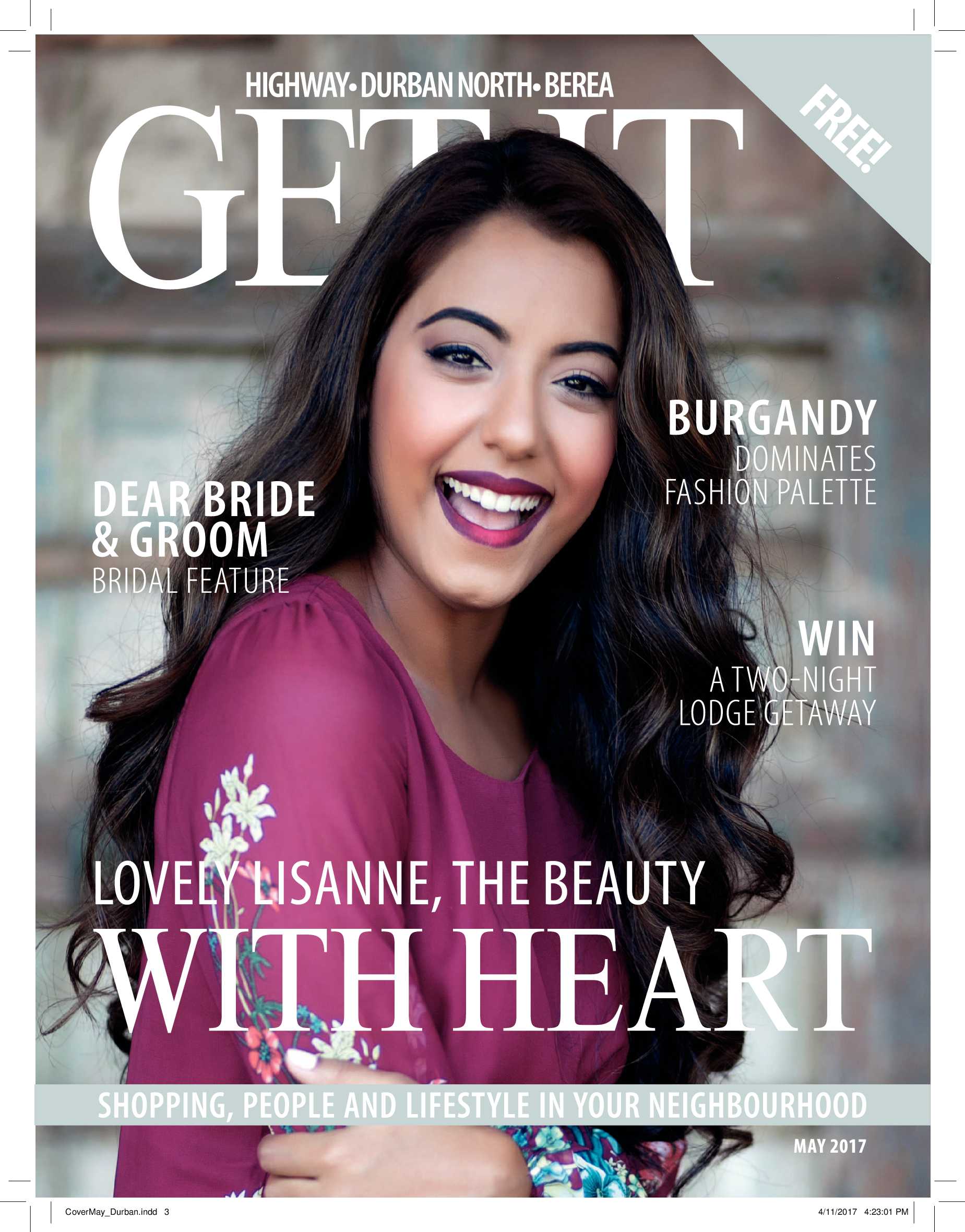 Durban Get It Magazine – May 2017
Lovely Lisanne, the beauty with a heart
View magazine

Fancy winning a designer cushion for Mother's Day
Isabel Walsh , owner of Creative Concepts /Isabeltable7 has one of these beautiful designer cushions to give away to one lucky reader this Mothers Day. The lucky winner can choose from one of these three beautiful designs above.
Making music together
Don't miss this incredible Mother's Day Concert at the Wavehouse, Gateway on Sunday, 14 May 2017 at 3pm.
May Spoil
Furnish your home with a click of a button…
The magic of a safari wedding – and what it takes to get there
A huge decision for any bridal couple is the venue for the wedding ceremony and reception. A venue situated in a unique location (other than the local church or community hall) has enormous potential in providing an exceptional experience that will be remembered for a lifetime.
Whisky Live Celebration visits Durban
Tickets are on sale for the Whisky Live Celebration taking place in Durban at the Wavehouse in Gateway from 1 to 3 June, 6pm to 10pm daily. Whether you're new to whisky or a seasoned connoisseur, there is a whisky to tantalise your tastebuds at this year's event.
Discover the Power of Natural with Nu-Eco
Just when you thought that helping the planet and making the eco-conscious choice would mean that you had to compromise on efficacy, a phenomenal product called Nu Eco was launched. With powerful all-natural cleaning agents and anti-microbial oils, your dishes are clean, your surfaces sparkling, your washing bright, and your whole home smells fresh.
Magnificent Victoria Falls, the perfect holiday adventure
Family holidays are the best times and provide memories that last forever. Planning a holiday that ticks all the boxes for everyone in the family is no easy feat which is why we've picked a family escape to Victoria Falls in Zimbabwe as a surefire winner when it comes to family fun and adventure.
April spoil
Beautiful on the inside as it is on the outside.
March Spoil
Time to enjoy special moments.
November Spoil
It's a jungle out there and we're going wild!
is a national brand of premium free magazines available in centres across the country.
to see other Get It magazines in the network.