Back-to-school lunchbox tips and recipes – the healthier way
Parents know how important it is to foster good eating habits as proper nutrition plays a vital role in helping children perform well at school – be it in maintaining sustainable energy levels or optimising cognitive thinking. The truth is that healthy eating habits start at home because children mimic the dietary habits of adults. Therefore, it's important for you to try fresh approaches – show your children how the meals are prepared and involve them in making their very own nutritious meals that they'll love.
"With the rise in awareness around healthy eating, parents are opting for nutritional food options for their children both at home and on the go.  The new choices, not only reflects this trend, but also speaks to children's preferences," says Grant Cullingworth, Executive Chef at Westin Cape Town.
This awareness has inspired the culinary team at The Westin Cape Town to collaborate with expert SuperChefs to develop their incredible SuperFoods menu, made from powerhouse ingredients rich in nutrients and antioxidants so your children can feel recharged. Although broadening the horizons of your child's taste buds is definitely challenging; the options for creating a healthy yet tasty lunchbox for your child are endless. And in using a combination of high-fibre whole grains, fresh fruits, vegetables, lean protein, while keeping an eye on the nutrient count of sugar and salt included, you can achieve this in no time.
Here are three quick, easy and simply delicious recipes to try:
Buzz Lightyear: Waffle or buttermilk flap jacks with Nutella yogurt cheese, strawberries, banana and black cherries, dark chocolate shavings and toasted almonds.
Humpty Dumpty: (Egg + Soldiers) Soft boiled egg served with bacon and mushroom whole-wheat pancake dippers, broccoli and cauliflower.
Cookie Monster: Almond macaroon with frozen blueberry yogurt, oat and chocolate chip cookies and coconut 'fur'.
Buzz Light Year [Makes 15 portions]
Ingredients
Almond Waffle Mix
Almond flour – 500 g
Salt – 2 g
Baking Soda – 2 tsp
Eggs – 8 each
Honey – 100 ml
Vanilla pod – 1 ea
Yoghurt Cheese
Nutella – ½ Jar
Low fat plain yogurt – 400 g
Fruit:
Strawberry (quartered) – 500 g
Banana (sliced) – 3 ea
Black cherries – 2 tins
Dark chocolate shavings – 30 g
Toasted almond flakes – 30 g
Method of preparation
Almond Waffles
Mix all dry ingredients in a mixing bowl, the almond flour, salt, baking soda, and vanilla pod.
Add the eggs and honey.
Mix ingredients together until it forms a smooth paste.
Set aside until ready to use.
Pre-heat the waffle machine, spoon the mix onto the waffle machine and cook accordingly.
Yoghurt Cheese
Place yogurt in muslin overnight to drain off excess water and firm up yogurt.
Fold the yoghurt and the Nutella in a mixing bowl.
Serving suggestion
Layer warm waffles (3ea) with the Nutella yogurt and sliced banana. Spoon the strawberries and cherries over the waffle, then garnish with toasted almonds and chocolate shavings.
Humpty Dumpty: [Makes 10 portions]
Ingredients
Wheat flour – 250 g
Brown sugar – 20 g
Baking powder – 3g
Baking soda – 2g
Salt
Buttermilk – 100ml
Eggs – 1ea
Oil – 10 ml
Bacon – 10 slices
Portobello mushrooms (skin removed and sliced) – 2ea
5-minute soft boiled egg – 10ea
Cauliflower florets – 2ea
Broccoli florets – 2ea
Method of preparation
Pancake: place all the dry ingredients in a bowl, then add all the liquids and mix to a batter, place it in piping bag, and let it rest.
Sear the turkey, bacon, and mushroom slices, leave it to cool.
Pipe the batter onto a non-stick pan, cook slightly until it starts setting. Layer the bacon and mushroom onto the pancake. Pipe another layer of batter over the bacon and mushroom, and seal.
Turn the dipper over to cook the other side then remove it from the pan when golden brown.
Grill the turkey and bacon for one minute on both sides.
Sauté the mushrooms in butter until cooked then add seasoning.
Place the cooked turkey, bacon and mushrooms in the middle of the pancake and wrap.
Blanche the cauliflower and broccoli florets in boiling water, toss with a little salt and olive oil.
Serving suggestion
Arrange the bacon and mushroom pancake dippers with the florets alongside the soft boiled egg.
Cookie Monster: [Makes 6 portions]
Ingredients
Macaroon:
Egg whites – 100g
Castor sugar – 100g
Ground almonds – 12 g
Icing sugar – 125g
Blueberry Frozen Yogurt:
Frozen blueberries (defrosted) – 1 cup
Low fat plain yogurt – 1 cup
Honey – ½ cup
Oat Biscuit:
Whole wheat flour – 200g
Oats – 200g
Butter – 200g
Sugar – 100g
Baking powder – 10ml
Milk – 15ml
Salt
Method of preparation
Macaroon:
Pre-heat oven to 140 degrees.
Whisk egg whites and castor sugar into a stiff peak.
Add ground almonds and icing sugar then fold in until evenly mixed.
Pipe 5cm circles onto greaseproof paper or silicone mats and knock down to even out.
Allow to stand for 30min and bake for 15-18min.
Blueberry Frozen Yogurt:
Add the blueberries and honey to a pot and simmer, then blend to smooth and allow to cool.
Fold into yogurt with whole blueberries to form a blueberry yogurt swirl and freeze into discs
Oat Biscuit:
Pre-heat oven at 160 degrees.
Put all dry ingredients into a mixing bowl.
Add butter and crumb together.
Add the milk and mix until dough comes together.
Continue binding by hand.
Roll, cut, and bake for 15-18min until golden brown.
Serving suggestion
Arrange some blueberry coulis on plate as desired. Sandwich the frozen blueberry yogurt between the two cookie monster macaroons and place on plate and arrange oat biscuits.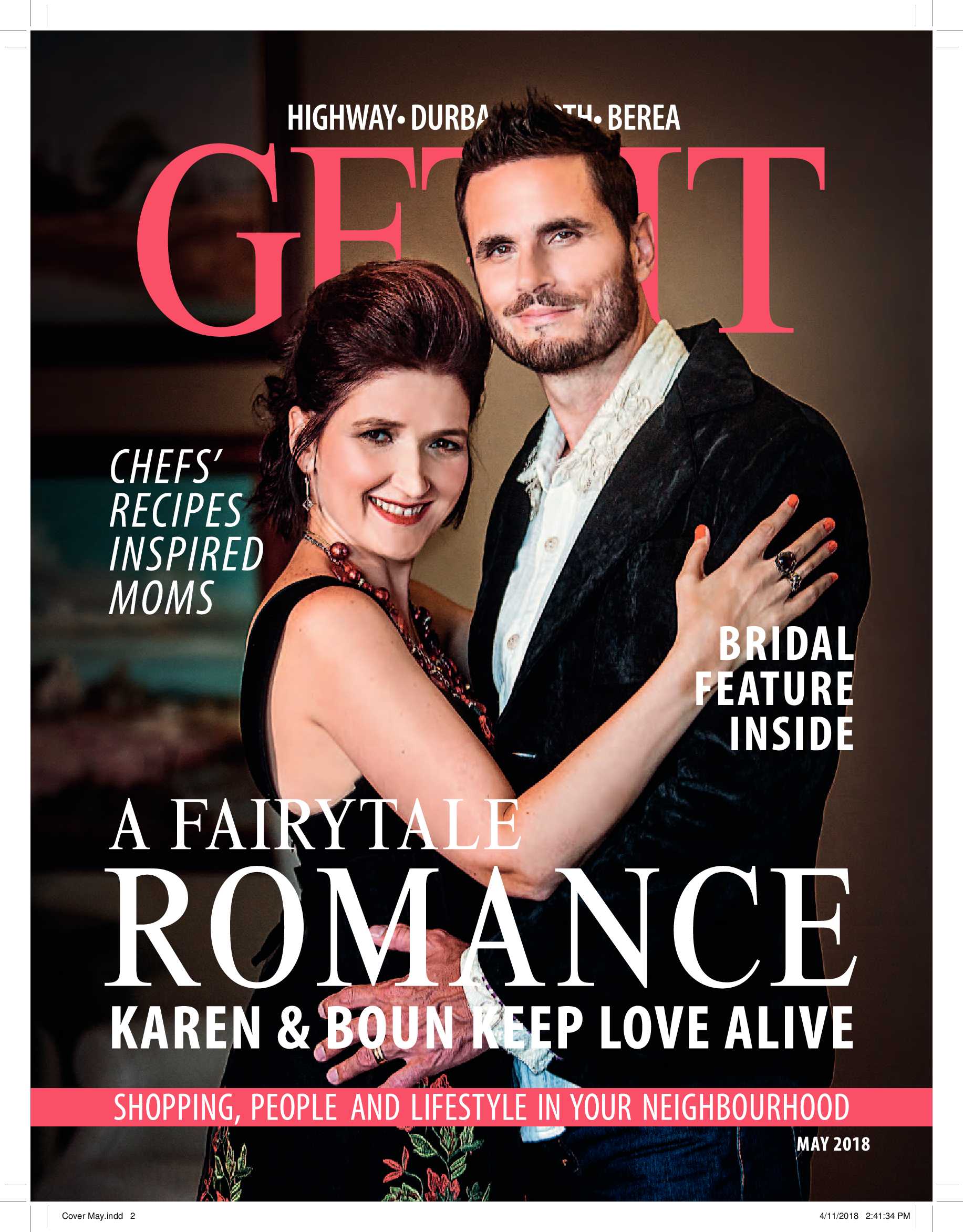 Get It Durban Magazine May 2018
A Fairytale Romance: Karen & Boun Keep Love Alive
View magazine

Beaucience for men
The range is designed to be simple, unique, and specialised skin care that treats the needs of a man's skin.
Ultimate luxury shaving products
Say goodbye to tough stubble.
June Spoil
In need of a really special treat? You won't do any better than spending some time soaking up the sun in Mauritius. And there's no better place to stay than the newly relaunched LUX* Grand Gaube Resort.
Mint Julep – The Iconic Bourbon Cocktail
Adventure-ready duffel bags
We just love these rugged, weather-resistant Chasm Collection duffel bags from Thule – the ideal companion on any travel adventure – big or small.
Fat Bastard. No. Not dad. Obviously. The wine.
The New Fat Bastard Golden Reserve 2017 is a lovely Bordeaux-style red blend… and the perfect gift to give your dad this month.
Win with Budweiser, official sponsors of the 2018 FIFA World Cup
Budweiser, one of the world's most iconic beers, is now being brewed right here in SA, just in time for the 2018 FIFA World Cup™. As the official and exclusive beer sponsor of the tournament, Budweiser is literally lighting up eight of SA's 2010 stadiums so that South Africans can feel part of the euphoric energy leading up the most watched sporting event in the world.
"Win A Dream Wedding Challenge" with Pavilion Shopping Center
With the Pavilion Shopping center Bridal fare fast approaching, entering this competition is a must for all future brides.
Canon's SNAPSHOT of the neighbourhood!
We're all about neighbourhoods. The streets. The restaurants. The parks. But most importantly … the people. This is your opportunity to capture what's best about the people and places where you live. Your chance to show off your neighbours and the hood … and to win not only fabulous Canon cameras, but also to have your work published in your local Get It magazine. What are you waiting for? Get out your camera, get snapping and show off your skills and your neighbourhood.
Something Borrowed, Something Blue, Something Old
…but definitely … something NEW at The Pavilion Bridal Fair.
is a national brand of premium free magazines available in centres across the country.
to see other Get It magazines in the network.