David Gouldie, the man with all the moves
Who is David Gouldie?
 I am David Gouldie, Freelance Creative Director, choreographer, emotional landscaper. My greatest passion is theatre and the arts. I am currently working on corporate entertainment solutions.
Have you always lived in Durban?
Durban is my home, my first love. I have always loved the creative energy in Durban and the artists that live here.
 When did you realise you had a passion for dance?
The day I took my first breath!
I used to drive my parents crazy.  As I child I was forever prancing around making up three act Ballets in the lounge, around the bowling green on weekends and even whilst shopping at Checkers on a Saturday morning. My mom knew it was best to send me off to dance class as soon as possible.
Was there any one person that was influential to you, and your dance/choreography career?
As a child music videos and the likes of Michael Jackson and Madonna seemed the coolest thing. My first teacher, Rosemary Wilson, ingrained in me a love for ballet that has stayed with me and inspired me into my adult years.
How old were you when you started dancing?
 I started classes at nine years old in a small town called Springs. My family was very sports orientated, so I was definitely that "special child". My dad being an educator realized he had to let me follow my heart and I left the small town life for art, ballet, music and drama. I thought I had arrived in an episode of fame! I joined the NAPAC Dance Company where my dreams were realised.
What was the first show you choreographed called?
My début as a choreographer was under the Direction of Mark Hawkins called, "I never sang for my mother" so long ago now I can hardly remember…like 1992.
 What shows have you been a part of since then?
 I have been very blessed to have had a long career as a choreographer. Some highlights would be Romeo and Juliet created with Mark Hawkins. On the musical theatre front Evita, Chess, High School Musical and Opera Mania come to mind.
Which has been your favourite show/production you have been involved with so far and why?
Fantastic Flying Fish created a season called Triptych. Two choreographers, the bands and the designers that at the time were ground-breaking and really re invented contemporary dance stereo types.  The level of collaboration between artists from various genres was on another level.
Can you choreograph any type of dance? Is there a particular style you prefer above others?
Hmm, I do fake it sometimes, but the best kind of work is when working with dancers and artists through a improv process, where we allow the body to find its own language and form of expression. The language of the body has an uncanny ability to transcend boundaries, and gives the viewer an insight to a kaleidoscope of human emotions and social taboos.
Your favourite dance move?
 Kick ball change launch! Jazz hands big finish!
 What inspires you when creating choreography for dance?
The humans I am working with, my current state of mind and the thought of moving and affecting my audience thought the beauty of movement.
 What is your upcoming show Overexposed all about? What can audiences expect?
Well, where do I begin…An interactive art performance. Be shocked, moved, surprised, disturbed and delighted. Be left without breath A collaboration of art, dance, djs, poetry, spoken word and crazy performance art weirdos. It will be a collaboration of fifty of Durban's weirdest artists, all coming together in the making of madness. All I can add is, plug in your chargers and get your lipstick ready!
Who is a stand out performer for you in Durban?
That question is tricky. Durban is filled with so much talent I would not even know where to begin!
Favourite restaurant?
Café 1999
 Why do you love Durban?
 Because it loves me back
Great people
Divine ocean
Interesting spaces and close to the mountains
Origin night club five minutes from my house
What more does one need I ask ?
3 things we don't know about you?
* I used to be thin
* Obsessed with squash
* Have an alto ego called Eugene who teaches Retro robics
Social media platforms
Overexposed on Facebook
And
Davidgouldiepresents.co.za
Main Photo Credit: Sean Laurenz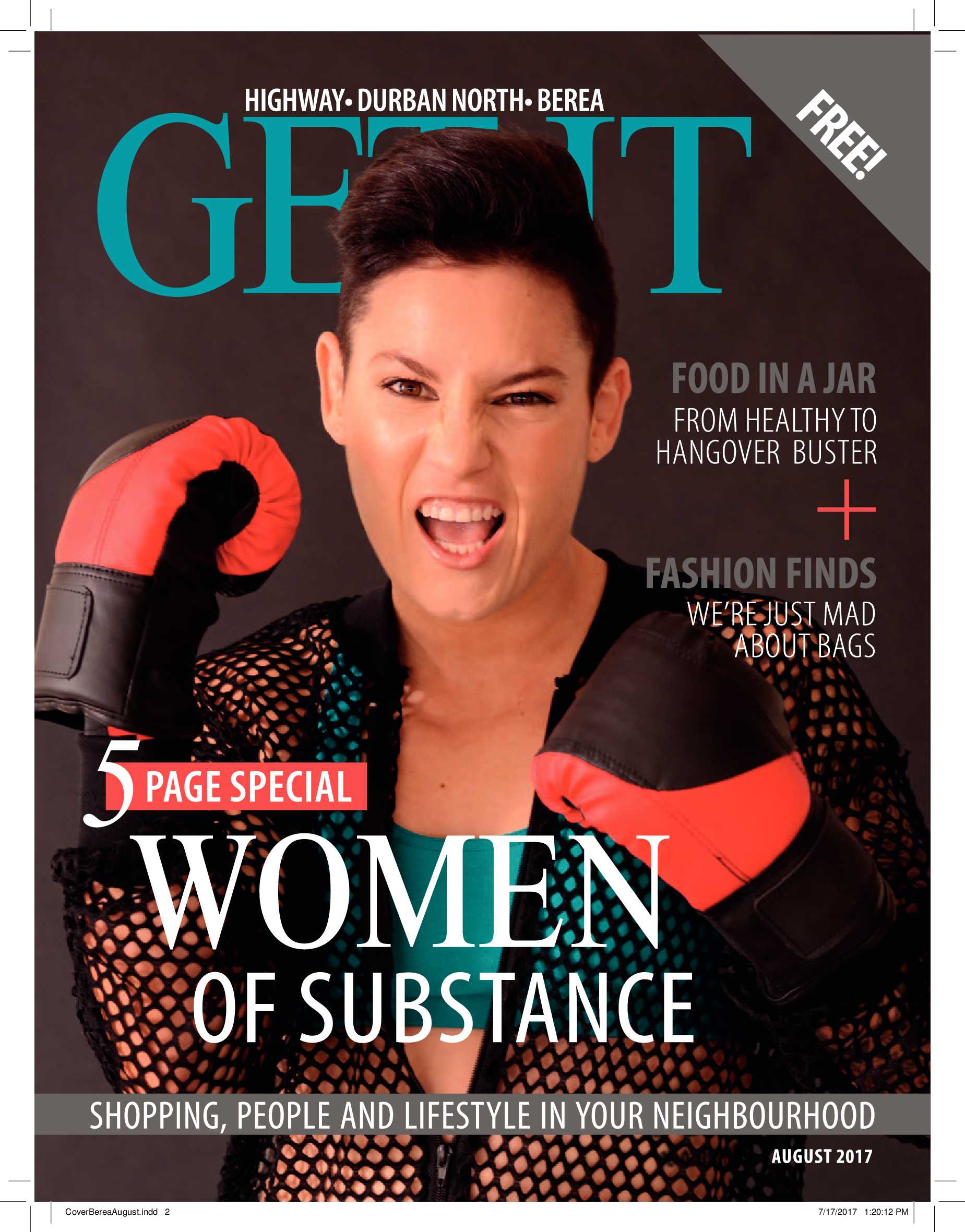 Durban Get It Magazine – August 2017
Women of substance
View magazine

Autostyle Motorshow 2017
The 14th edition of the Autostyle Motor show is back. Please save the date Sunday 17 September 2017.
Giveaway- a night of hilarious stand-up comedy entertainment at Butler's Restaurant in Hillcrest
Win 4 Tickets to a Stand-up Comedy Night! …proudly brought to you by On Fire Comedy, Savanna Cider and East Coast Radio! Date: Saturday 02 September 2017 Venue: Butler's Restaurant (24 Old Main Rd, Hillcrest) Start time: 8:30pm Closing Date: 30th August
8-TREK: The economical all-purpose ointment
8-Trek has grown in popularity and now it is available in two sizes, the small 25ml for bags and travel and a bigger 50ml tube which is for the home.
Luxurious, chocolaty secrets
Don't like dark chocolate because of its bitter taste? We've got just the right fix for you… Lindt's Excellence Mild 70%.
Paisleys & Posies
Yes, we know it's not officially Spring yet but let's face it, here in Durbs winter isn't really a thing. In anticipation of the up-coming new season, we've taken a sneak peek at the nine new fabrics that have joined Lou Harvey's troupe of beautiful, bright and functional lifestyle accessories, and we've already started shopping!
Win with Pediasure
Children naturally have high energy requirements to support their growth and development, in addition to what they need for activity, sport and play time. If they do not get enough energy from food, they may become tired, irritable, and have poor concentration, losing their interest in being active. PediaSure® Complete is a nutrient-rich, lactose-free drink that provides balanced nutrition for children from age three to ten, experiencing growth challenges. Long-term clinical studies using two glasses of Pediasure® Complete daily has been associated with improved appetite and physical activity and a reduction in the number of sick days.
Airtushi – The Inflatable Travel Highchair
The Airtushi is an inflatable booster seat for kids. You can use it on planes, and attach it to almost any seat as a high chair.
is a national brand of premium free magazines available in centres across the country.
to see other Get It magazines in the network.