David Gouldie, the man with all the moves
Who is David Gouldie?
 I am David Gouldie, Freelance Creative Director, choreographer, emotional landscaper. My greatest passion is theatre and the arts. I am currently working on corporate entertainment solutions.
Have you always lived in Durban?
Durban is my home, my first love. I have always loved the creative energy in Durban and the artists that live here.
 When did you realise you had a passion for dance?
The day I took my first breath!
I used to drive my parents crazy.  As I child I was forever prancing around making up three act Ballets in the lounge, around the bowling green on weekends and even whilst shopping at Checkers on a Saturday morning. My mom knew it was best to send me off to dance class as soon as possible.
Was there any one person that was influential to you, and your dance/choreography career?
As a child music videos and the likes of Michael Jackson and Madonna seemed the coolest thing. My first teacher, Rosemary Wilson, ingrained in me a love for ballet that has stayed with me and inspired me into my adult years.
How old were you when you started dancing?
 I started classes at nine years old in a small town called Springs. My family was very sports orientated, so I was definitely that "special child". My dad being an educator realized he had to let me follow my heart and I left the small town life for art, ballet, music and drama. I thought I had arrived in an episode of fame! I joined the NAPAC Dance Company where my dreams were realised.
What was the first show you choreographed called?
My début as a choreographer was under the Direction of Mark Hawkins called, "I never sang for my mother" so long ago now I can hardly remember…like 1992.
 What shows have you been a part of since then?
 I have been very blessed to have had a long career as a choreographer. Some highlights would be Romeo and Juliet created with Mark Hawkins. On the musical theatre front Evita, Chess, High School Musical and Opera Mania come to mind.
Which has been your favourite show/production you have been involved with so far and why?
Fantastic Flying Fish created a season called Triptych. Two choreographers, the bands and the designers that at the time were ground-breaking and really re invented contemporary dance stereo types.  The level of collaboration between artists from various genres was on another level.
Can you choreograph any type of dance? Is there a particular style you prefer above others?
Hmm, I do fake it sometimes, but the best kind of work is when working with dancers and artists through a improv process, where we allow the body to find its own language and form of expression. The language of the body has an uncanny ability to transcend boundaries, and gives the viewer an insight to a kaleidoscope of human emotions and social taboos.
Your favourite dance move?
 Kick ball change launch! Jazz hands big finish!
 What inspires you when creating choreography for dance?
The humans I am working with, my current state of mind and the thought of moving and affecting my audience thought the beauty of movement.
 What is your upcoming show Overexposed all about? What can audiences expect?
Well, where do I begin…An interactive art performance. Be shocked, moved, surprised, disturbed and delighted. Be left without breath A collaboration of art, dance, djs, poetry, spoken word and crazy performance art weirdos. It will be a collaboration of fifty of Durban's weirdest artists, all coming together in the making of madness. All I can add is, plug in your chargers and get your lipstick ready!
Who is a stand out performer for you in Durban?
That question is tricky. Durban is filled with so much talent I would not even know where to begin!
Favourite restaurant?
Café 1999
 Why do you love Durban?
 Because it loves me back
Great people
Divine ocean
Interesting spaces and close to the mountains
Origin night club five minutes from my house
What more does one need I ask ?
3 things we don't know about you?
* I used to be thin
* Obsessed with squash
* Have an alto ego called Eugene who teaches Retro robics
Social media platforms
Overexposed on Facebook
And
Davidgouldiepresents.co.za
Main Photo Credit: Sean Laurenz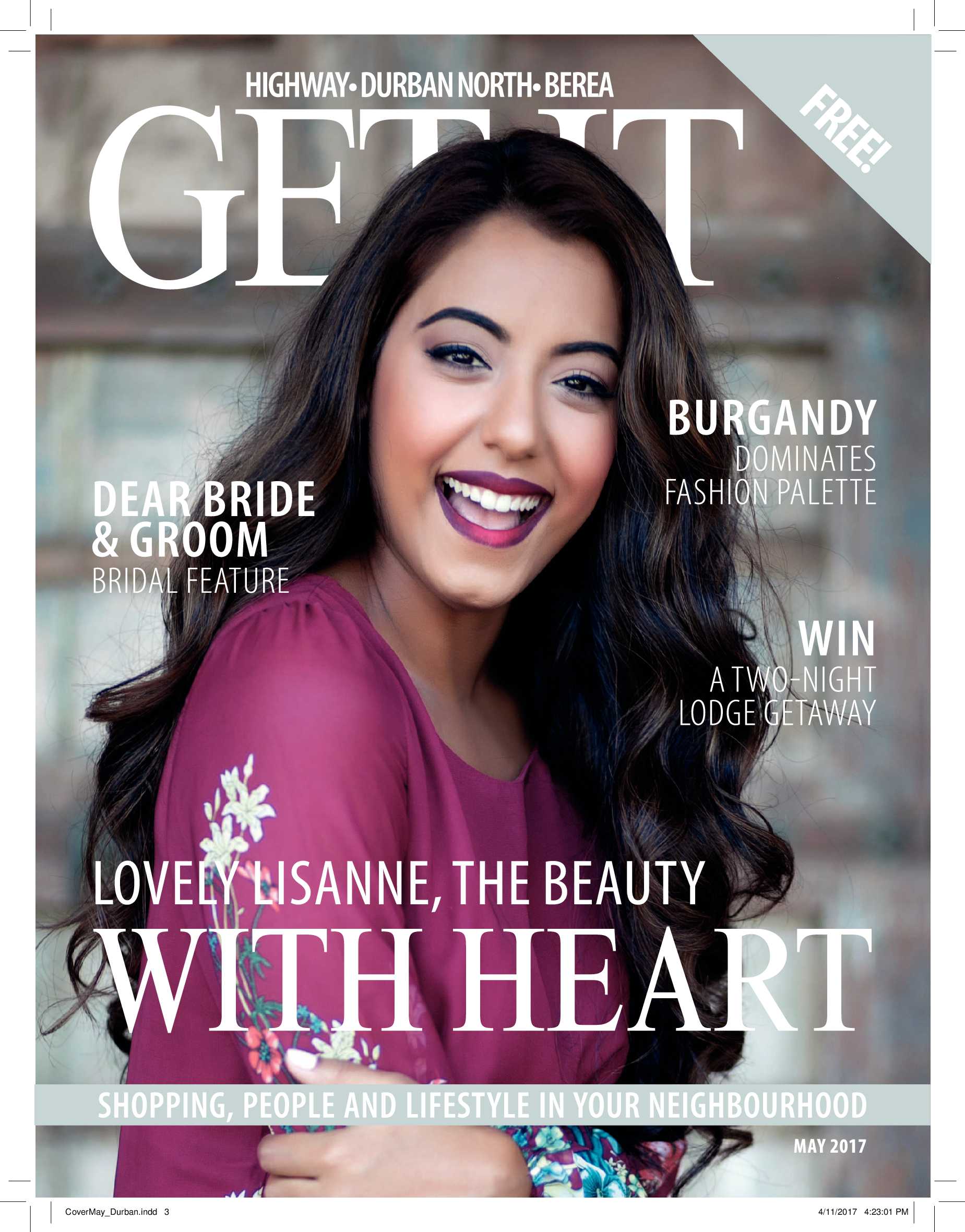 Durban Get It Magazine – May 2017
Lovely Lisanne, the beauty with a heart
View magazine

Fancy winning a designer cushion for Mother's Day
Isabel Walsh , owner of Creative Concepts /Isabeltable7 has one of these beautiful designer cushions to give away to one lucky reader this Mothers Day. The lucky winner can choose from one of these three beautiful designs above.
Making music together
Don't miss this incredible Mother's Day Concert at the Wavehouse, Gateway on Sunday, 14 May 2017 at 3pm.
May Spoil
Furnish your home with a click of a button…
The magic of a safari wedding – and what it takes to get there
A huge decision for any bridal couple is the venue for the wedding ceremony and reception. A venue situated in a unique location (other than the local church or community hall) has enormous potential in providing an exceptional experience that will be remembered for a lifetime.
Whisky Live Celebration visits Durban
Tickets are on sale for the Whisky Live Celebration taking place in Durban at the Wavehouse in Gateway from 1 to 3 June, 6pm to 10pm daily. Whether you're new to whisky or a seasoned connoisseur, there is a whisky to tantalise your tastebuds at this year's event.
Discover the Power of Natural with Nu-Eco
Just when you thought that helping the planet and making the eco-conscious choice would mean that you had to compromise on efficacy, a phenomenal product called Nu Eco was launched. With powerful all-natural cleaning agents and anti-microbial oils, your dishes are clean, your surfaces sparkling, your washing bright, and your whole home smells fresh.
Magnificent Victoria Falls, the perfect holiday adventure
Family holidays are the best times and provide memories that last forever. Planning a holiday that ticks all the boxes for everyone in the family is no easy feat which is why we've picked a family escape to Victoria Falls in Zimbabwe as a surefire winner when it comes to family fun and adventure.
April spoil
Beautiful on the inside as it is on the outside.
March Spoil
Time to enjoy special moments.
November Spoil
It's a jungle out there and we're going wild!
is a national brand of premium free magazines available in centres across the country.
to see other Get It magazines in the network.