David Gouldie, the man with all the moves
Who is David Gouldie?
 I am David Gouldie, Freelance Creative Director, choreographer, emotional landscaper. My greatest passion is theatre and the arts. I am currently working on corporate entertainment solutions.
Have you always lived in Durban?
Durban is my home, my first love. I have always loved the creative energy in Durban and the artists that live here.
 When did you realise you had a passion for dance?
The day I took my first breath!
I used to drive my parents crazy.  As I child I was forever prancing around making up three act Ballets in the lounge, around the bowling green on weekends and even whilst shopping at Checkers on a Saturday morning. My mom knew it was best to send me off to dance class as soon as possible.
Was there any one person that was influential to you, and your dance/choreography career?
As a child music videos and the likes of Michael Jackson and Madonna seemed the coolest thing. My first teacher, Rosemary Wilson, ingrained in me a love for ballet that has stayed with me and inspired me into my adult years.
How old were you when you started dancing?
 I started classes at nine years old in a small town called Springs. My family was very sports orientated, so I was definitely that "special child". My dad being an educator realized he had to let me follow my heart and I left the small town life for art, ballet, music and drama. I thought I had arrived in an episode of fame! I joined the NAPAC Dance Company where my dreams were realised.
What was the first show you choreographed called?
My début as a choreographer was under the Direction of Mark Hawkins called, "I never sang for my mother" so long ago now I can hardly remember…like 1992.
 What shows have you been a part of since then?
 I have been very blessed to have had a long career as a choreographer. Some highlights would be Romeo and Juliet created with Mark Hawkins. On the musical theatre front Evita, Chess, High School Musical and Opera Mania come to mind.
Which has been your favourite show/production you have been involved with so far and why?
Fantastic Flying Fish created a season called Triptych. Two choreographers, the bands and the designers that at the time were ground-breaking and really re invented contemporary dance stereo types.  The level of collaboration between artists from various genres was on another level.
Can you choreograph any type of dance? Is there a particular style you prefer above others?
Hmm, I do fake it sometimes, but the best kind of work is when working with dancers and artists through a improv process, where we allow the body to find its own language and form of expression. The language of the body has an uncanny ability to transcend boundaries, and gives the viewer an insight to a kaleidoscope of human emotions and social taboos.
Your favourite dance move?
 Kick ball change launch! Jazz hands big finish!
 What inspires you when creating choreography for dance?
The humans I am working with, my current state of mind and the thought of moving and affecting my audience thought the beauty of movement.
 What is your upcoming show Overexposed all about? What can audiences expect?
Well, where do I begin…An interactive art performance. Be shocked, moved, surprised, disturbed and delighted. Be left without breath A collaboration of art, dance, djs, poetry, spoken word and crazy performance art weirdos. It will be a collaboration of fifty of Durban's weirdest artists, all coming together in the making of madness. All I can add is, plug in your chargers and get your lipstick ready!
Who is a stand out performer for you in Durban?
That question is tricky. Durban is filled with so much talent I would not even know where to begin!
Favourite restaurant?
Café 1999
 Why do you love Durban?
 Because it loves me back
Great people
Divine ocean
Interesting spaces and close to the mountains
Origin night club five minutes from my house
What more does one need I ask ?
3 things we don't know about you?
* I used to be thin
* Obsessed with squash
* Have an alto ego called Eugene who teaches Retro robics
Social media platforms
Overexposed on Facebook
And
Davidgouldiepresents.co.za
Main Photo Credit: Sean Laurenz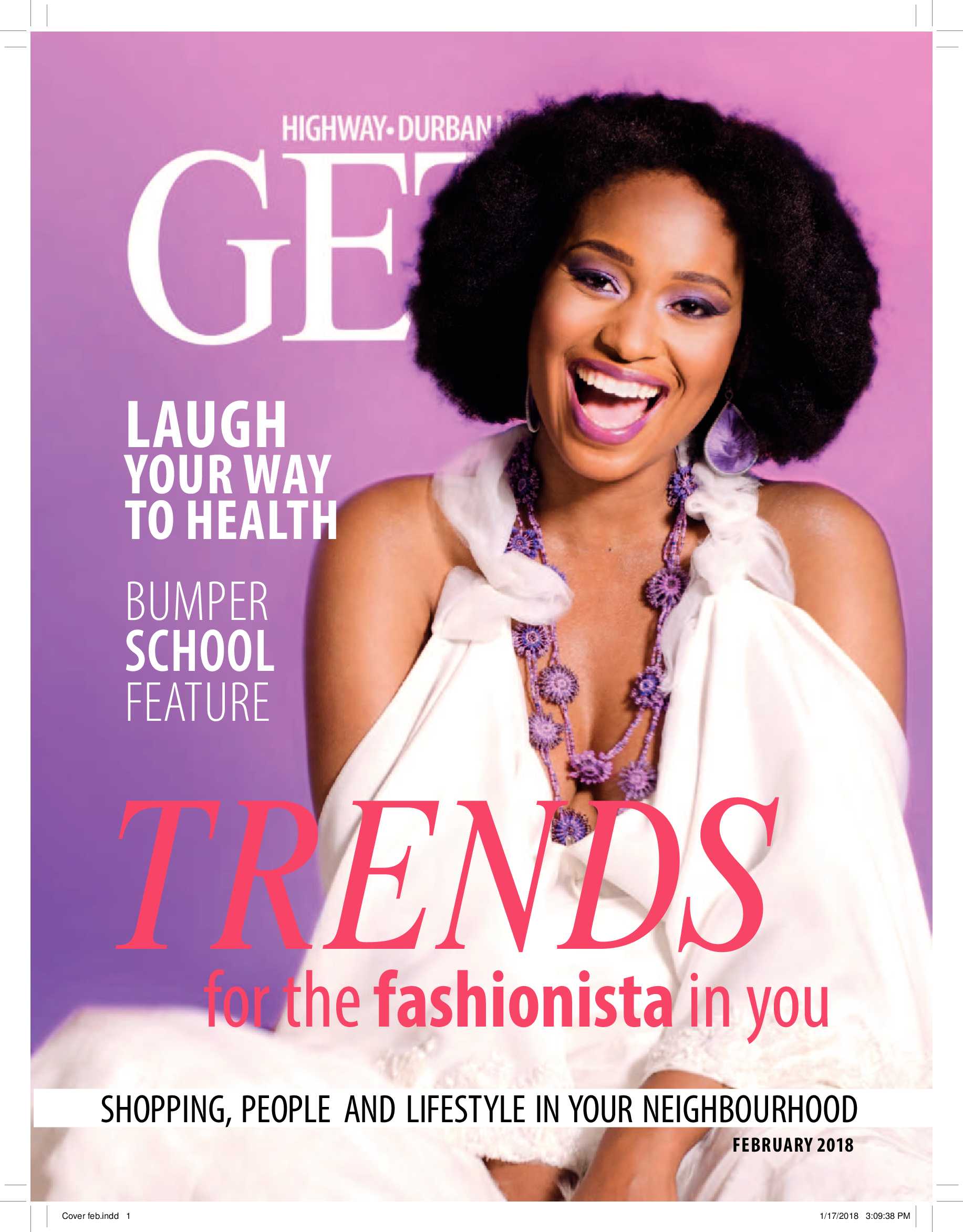 Get It Magazine Durban January 2018
Trends for the fashionista in you
View magazine

Win tickets to Decorex Durban
Leaders in the décor, design and lifestyle trade, Decorex Durban, will inspire visitors to find their unique #rhythmoflife with a range of stylish services and products featuring at the Durban Exhibition Centre from 21 to 25 March.
Sweetie Pie Easter Egg
Sweetie Pie is a South African favourite, and with Easter around the corner this mouthful of goodness from Beyers is now available in a limited edition Sweetie Pie Easter Egg that will delight all loyal fans.
Carrol Boyes Wines Collection
Lovers of renowned gifting and homeware label Carrol Boyes will know that over the years the brand has come to encompass far more than the distinctive tableware for which it first became so highly revered.
March Spoil
Let's get together!
Chocolate for everyone
Who doesn't love Peter Rabbit? Who doesn't love Cadbury?
World class London Dry Gin
Stretton's Gin has come to the rescue of all gin-lovers with a collaboration that's bound to be the talk of the town.
Chocolate Mozart
Renowned for their mouth-watering, decadent and convenient desserts, Chateau Gateaux has become Durban's most-loved Patisserie – an obsession to say the least.
As good as eating out
Let's face it. Budgets are tight. And eating out has become somewhat of a treat. But we've found the perfect solution … restaurant food at home.
Bespoke baby gear, designed with the supermom in mind!
When it comes to baby brands, there are so many great companies out there producing some incredible stuff. On an international level, we are of course envious of some of the adventurous, fun and fabulous products on the market (not all of which we can always get our hands on), so we simply cannot contain ourselves when every now and again we stumble across some equally great brands produced on our very own doorstep…
A Crazi kind of giveaway
There are only a few weeks left of the Crazi Erazi phenomenon that has swept the country since December, and this is your chance to win one of five complete sets of Crazi Erazi erasers that we are giving away.
is a national brand of premium free magazines available in centres across the country.
to see other Get It magazines in the network.